Boffins cram binary data into living cells' DNA
Biological non-volatile storage survives reproduction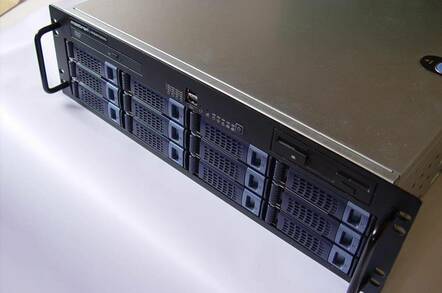 Pic In a move that could have appeared in a Michael Crichton novel, Stanford University brainiacs have written and read a binary digit encoded in a DNA cell sequence which survives cell reproduction - a non-volatile genetic bit.
DNA, Deoxyribonucleic acid, contains the genetic instructions used in the development and functioning of living organisms. Segments of DNA carry specific information and are called genes.
In the Stanford university research, data-loaded cells reproduced 90 and 200 times, retaining a bit of readable information. The research has been published online in the Proceedings of the National Academy of Sciences and the lead scientist is Jerome Bonnet, a post-doc at the university.
The technique starts with a specific sequence of DNA which can be made to point in one of two ways by the application of a natural enzymes adapted from bacteria. These are said to be in a recombinase addressable data module, RAD for short. The RAD was applied to bacteria to change the direction of a particular sequence of DNA and so influence whether the bacteria, a single celled organism, will fluoresce red or green under ultra-violet light. The RAD can be used to switch or flip the DNA sequence back and forth.
What they are doing is called "recombinase-mediated DNA inversion" in biotechnology, after the enzymatic processes used to cut, flip and recombine DNA within the cell.
Bonnet said his three-man team had to find out how to control the dynamics and levels of two opposing proteins, integrase and excisionase, within the bacteria. It was straightforward to flip the DNA one way or the other with a protein, but their efforts failed when the two proteins were used together.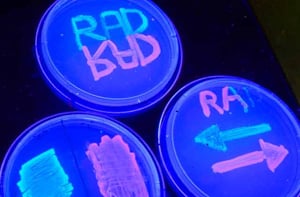 Cells in a petri dish glow red or green under UV light. (Standford University)
Graduate student Pakpoom Subsoontorn said: "The problem is that the proteins do their own thing. If both are active at the same time, or concentrated in the wrong amounts, you get a mess and the individual cells produce random results." It took three years and 750 attempts before the protein level balance was correct.
Once that was achieved the DNA sequence was set and survived a 100-fold cell doubling, and it stays set when the enzymes are not present. The boffins have a way to write and read a resettable genetic bit.
The prospects are that cells could be "programmed" (by scientists, rather than by the DNA's existing instructions) to do specific things. Stanford assistant professor Drew Endy said: "Programmable data storage within the DNA of living cells would seem an incredibly powerful tool for studying cancer, ageing, organismal development and even the natural environment."
An example is that cell division could be counted and, possibly, a pre-cancerous cell could even be "turned off" before it becomes cancerous. This is a long way off, just a distant possibility. The next step is to make 2-bit cell DNA storage possible, then 3-bit, and so progress to a byte.
Endy said: "We're probably looking at a decade from when we started to get to a full byte. But, by focusing today on tools that improve the engineering cycle at the heart of biotechnology, we'll help make all future engineering of biology easier, and that will lead us to much more interesting places."
A genetic-level cell storage door has opened and it could lead us to some very rewarding places. ®
Sponsored: Learn how to transform your data into a strategic asset for your business by using the cloud to accelerate innovation with NetApp