Return to Castle Wolfenstein
Ex the Axis
'For you, ze var is over'
About the only war movie clichés you don't do is make a parachute jump - but it's there in a cut-scene - and fly a DeHavilland Mosquito.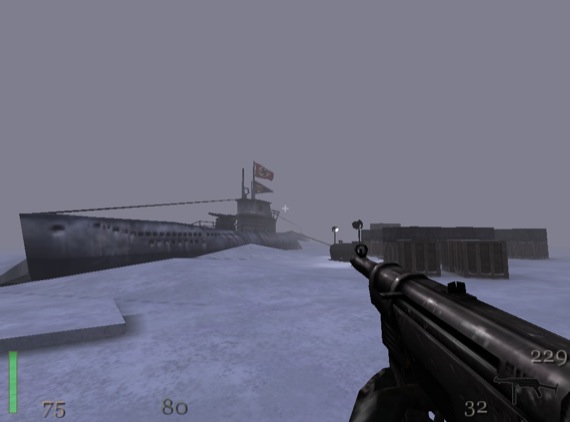 The ice have it
The upshot is a game with a variety of mission types that take you well beyond the 'enter room, blast everything within' gameplay of its predecessor. There are W3D-style caches of hidden treasure, but not too many should you tire of hitting every picture of Hitler and Nazi flag on the off-chance there's a switch hidden behind.
This being the 21st Century and a long way from the realities of WWII, RTCW sexed up the Second World War with a coven of leather-clad lady warriors to combat, a Nazi black magician who summons demons in her undies, and some rather cute - watch 'em tap their 'feet' when they can't figure out where you've gone - electro-organic Nazi-made monsters, the Lopers.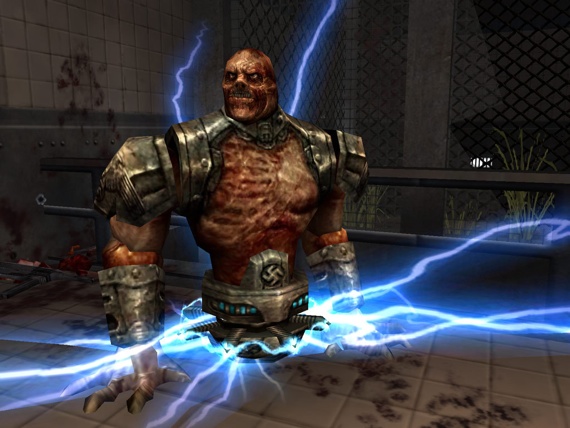 I am a Loper. I lope.
And there's the inevitable occult angle, a firm favourite of (long post-war) WWII fiction - Mike Mignola's first Hellboy book came out in the mid-1990s, a key influence, I'd say - with a quest to resurrect an ancient, magical Teutonic warrior neatly bookending the more science fictional stuff.
The regular axis troops got an upgrade too, with flamethrower-equipped fighters, snipers - another nod to Saving Private Ryan, as is the level in which you protect a slow-moving Sherman tank from Panzerfaust-wielding soldiers - and elite parachute squad, the latter showing just how far AI had come along in the years since the original game.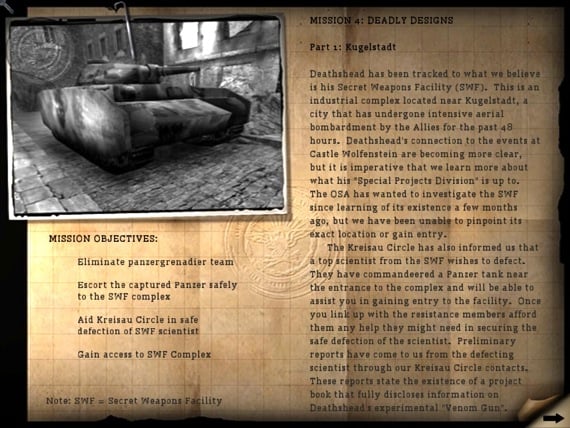 Tanks for the memory
No more ducking your head through a door, cocking a snook and waiting for the newly awoken but still dozy enemy to come running straigt into your gun sight. These guys had learned to wait for you. The secret? Shoot 'em while they're still coming in to land.
Unlike its predecessor, RTCW didn't go big on boss levels, throwing in just three into its 26 levels, the finale pitching you against Heinrich, a Dark Age dark knight resurrected by the SS to wage demonic war against the allies.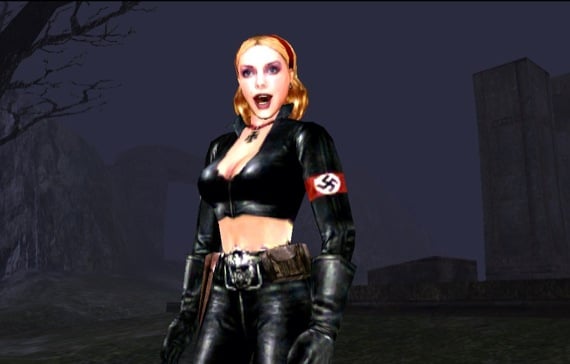 The Elite Guard will stiffen your resolve. Or something
But it's the NPCs that make this game. There's a nice line of jarhead black-humour running through RTCW, with soldiers complaining about work details and expressing their fear that the higher powers have left them up the proverbial without a panzerfaust. It doesn't always work, but at least it lifts them a little above the canon fodder cliché. It's a shame you have to kill them all, really. But war is hell...
RTCW was coded on top of iD's Quake III engine. A Mac port followed in 2002, as did a version for Linux. It's still available on Steam and, following the release of the source code in 2012, various free ports have popped up, though you'll need an original disc for the maps files, graphics and such.
Developer Grey Matter
Publisher Activision
Release Date November 2001
Platforms PC, Mac, Linux, Xbox, PS2
More Retro Games

Head Over Heels
Ten... 8-bit classics
Carmageddon
Leisure Suit Larry
System Shock
Sponsored: Minds Mastering Machines - Call for papers now open