NextIO bags some more cash for virty server I/O push
Mystery strategic investor pumps in US$12.3m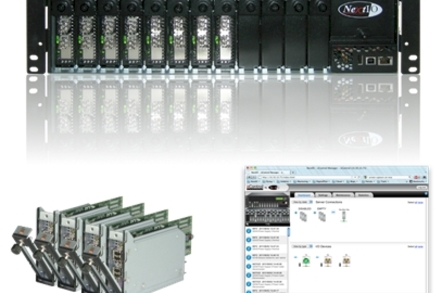 There are plenty of ways to skin the server virtualization cat, and NextIO's means of doing so is to create a PCI-Express switch that links server nodes to each other and to Ethernet network, Fibre Channel SAN, and external peripherals such as flash drives or GPU coprocessors that are housed in an external chassis. Trying to convince data centers to converge their networks at the PCI-Express peripheral bus instead of in the Ethernet or Fibre Channel network takes a bit of work, and money. And that is why NextIO is happy to be getting $12.3m in Series F funding.
Yup. Series F, which should be either close to the point where a company is ready to go public or be acquired by a bigger competitor or, in this case, a system maker that wants to offer options in converged infrastructure.
NextIO's most important product is arguably the vNET Maestro, which was launched last October and which would make an interesting addition to any server maker's product line, particularly if they did not have prior prejudices about using only Ethernet switches to converge traffic. At the heart of this device is PCI-Express switch that can be configured with dual-port 10GE controller cards or dual-port 8Gb/sec Fibre Channel adapters as well as other kinds of devices that plug into the slot.
The vNET Maestro is currently limited to PCI-Express 1.0 peripherals, which limits its bandwidth quite a bit, but KC Murphy, NextIO co-founder and CEO, told El Reg last fall that an upgrade to a PCI-Express 2.0 is coming, that he was waiting for PCI-Express 3.0 to sort itself out a bit. He added that for most server and storage workloads in the data center, the 10Gb/sec link embodied in the vNET Maestro switch was sufficient.
To date, NextIO has raised $49.6m in funding from its five rounds of funding running from Series B through F; it is not clear how much NextIO raised in its initial round. Crescendo Ventures, Adams Capital Management, VentureTech Alliance, and JK&B Capital have all kicked in dough over the years; Crescendo Ventures and Adams Capital did the investing this time around as did the "undisclosed investor." Server maker Dell also made an investment back during the Series C $18.8m round in February 2008. It would not be at all surprising if Dell was the mystery investor this time around, but it could be a different company.
"After a very successful 2011 built around our vCORE and vNET product lines, we intend to double our revenue in 2012," Murphy said in a statement. "Closing this funding is a critical step to achieving that goal, as it allows us to take our I/O consolidation solutions and marketing strategies to the next level in the U.S. and throughout the world." ®
Sponsored: Minds Mastering Machines - Call for papers now open