Isilon Maverick flyboy in EMC World flyby
I feel the need, the need for... reliability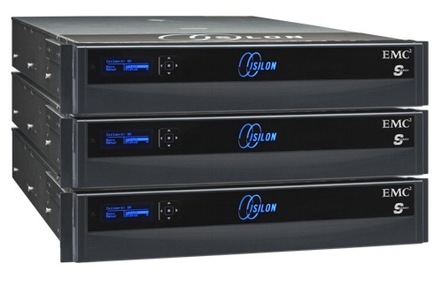 EMC's coming "Mavericks" Isilon software update aims to help it play nicely in the enterprise IT zone while keeping its scale-out NAS top gun title.
Announced at EMC World, the upcoming "Mavericks" edition of Isilon's OneFS storage box operating system aims to make it more of a dependable racehorse, with role-based admin and file system access up to SEC 17a-04 requirements to stop accessors and sysadmins from treading on each other's toes.
It has received a performance boost too, with a claimed 25 per cent increase in file throughput and better caching; no cache speed-up numbers are available though. EMC says it is "dramatically improved" with average latency for I/O-intensive apps cut in half. The new OneFS should deliver more than 100GB/sec of data.
We think that these changes should boost OneFS's already impressive CIFS performance where is is the benchmark champ in the somewhat under-utilised SPECsfs 2008 CIFS benchmark listings – with 1,612,778 IOPS, as the chart shows. Are we looking at a jump to 1.7 or 1.8 million IOPS?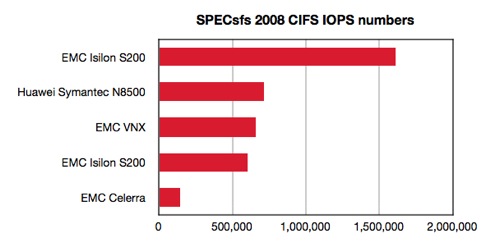 There appears to be no chance of NetApp's mainstream FAS arrays approaching this level of performance and we might speculate that NetApp would use E-Series arrays, perhaps with flash, for such scale-out NAS situations. FAS competes with VNX and not Isilon after all. This leads us to speculate about what might happen if Isilon's hardware were to get VFCache (PCIe server flash) support. Perhaps a jump up past 2 million SPEsfs 2008 IOPS would be on the cards?
VAAI and VASA support are being added to make OneFS play nicer in virtualised server environments. It gets what EMC calls "push-button failover and fall-back" to cope better with controller hardware glitches, and it will provide near-immediate restoration of snapshot backups to recover critical files in the event of error or attack.
There will also be a new OneFS API for ISVs and enterprise IT users, with more automation and a control interface so other apps can use the Isilon hardware.
EMC is hoping to to ride the enterprise unstructured data wave as it scales up to petabyte levels with its scale-out NAS-bred Isilon hardware with these changes. The Isilon maverick aims to stay top gun and be a better enterprise team player.
The new OneFS edition will be available later this year. ®
Sponsored: Minds Mastering Machines - Call for papers now open