Evernote
Popular app gets Ice Cream Sarnie treatment
Android App of the Week As a long-time user of Catch Notes it was going to take something quite impressive to get me to jump ship to arch-rival Evernote but a recent update and integration with the latest versions of HTC's Sense have persuaded me to do so.
The upgrade has brought a new Ice Cream Sandwich-esque design to the app. There's still an awful lot of green about, but to my eyes it now looks a lot more modern, clean and less confusing.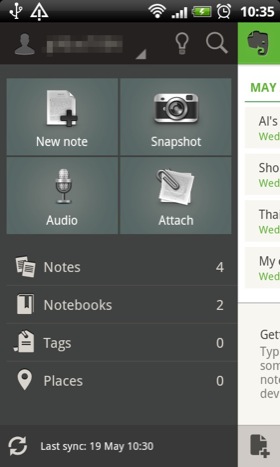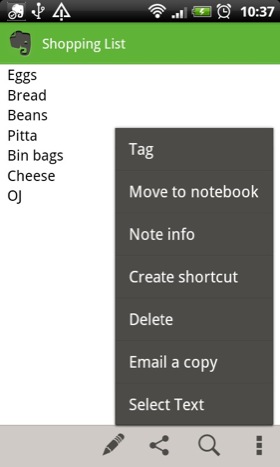 The new Home screen (left) and the smart actio bar (right)
The Big Idea in the new release, version 4, is the new home screen. Large friendly buttons now let you create new notes, record and upload audio or pictures or attachments. A simple left-swipe takes you to your main notes page, while a tap on the Elephant icon always takes you back home.
A new drop-down menu lets you change your preferences and more importantly see how much of your 60MB monthly upload allowance you have used. Tap on the lightbulb and a handy How To... guide opens. Tap the magnifying glass next to it and you can search your notes.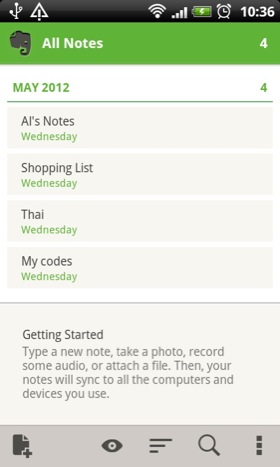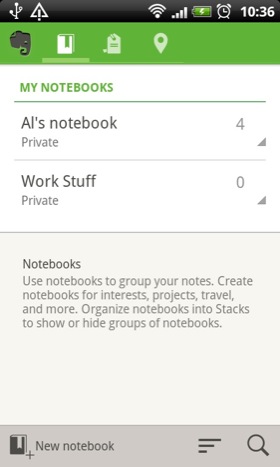 Sort your notes (left) into notebooks (right)
Below the create buttons now sit a smaller selection that again takes you to your notes, any notebooks into which they are grouped and all the tags and locations associated with your notes.
Another new feature is the smart action bar at the bottom of each note. Activated by a tap of the screen, it offers options to edit, share and search the note in question as well as offering a comprehensive pop-up menu. Tap again and it vanishes devoting the maximum screen space to your copy.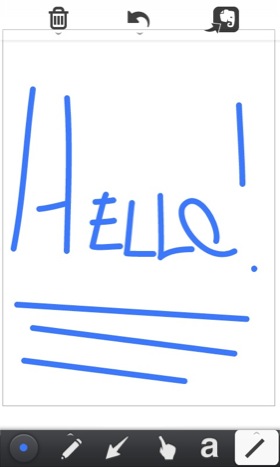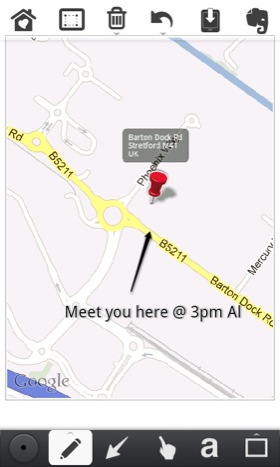 Draw with Skitch (left) - even on Google Maps (right)
Two features that really make Evernote stand out are the speech transcription system and the Skitch, the latter being a small standalone graphics app that integrates fully into Evernote. The transcription system is not only very accurate but will also play back a recording of what you actually said.
Skitch isn't without its uses, either, not least the ability to capture map images from Google Maps and add information to them. It's a pretty decent if basic drawing tool too, though the bigger your Android device's screen the more use you can make of it.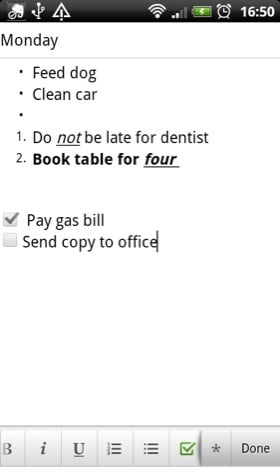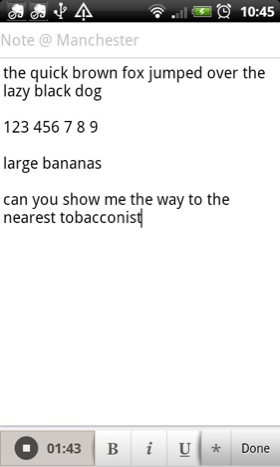 There are plenty of text mark-up options (left) and voice transcription (right) works well too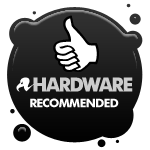 Only one thing hinders Evernote: the need to upgrade to a Premium account to get the PIN lock function which Catch gives you for free. Yes, the upgrade also gets you some extra search functions and 1GB of monthly uploads, but at £35 a year or £4 a month, it's not a cheap option if all you want is a little extra security.
Like most highly integrated note apps, Evernote's permission requests are nothing if not comprehensive, so it's not something I could recommend to the overly privacy conscious. As always, caveat emptor. ®
Size 10.4MB
Apps2SD Yes

More Android App of the Week Winners

IMDb
National Rail Enquiries
Textgram
Google Currents
Instagram
Sponsored: Minds Mastering Machines - Call for papers now open

Evernote
Cloudy note taking with oodles of functions.