Amazon offers cloudy app test drives
Casting Android handsets as very thin clients
Amazon is extending its cloud-based Test Drive to its on-device store, offering browsers a quick shot at an Android app, on their own phone, as a prelude to closing the sale.
The service doesn't require developers to do anything, it just pops up as an option in the application's details (assuming you are in the USA), allowing the user to run the application in Amazon's cloud to see if they like it before buying, downloading and installing locally.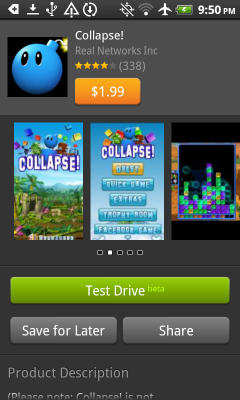 No sign of Test Drive, or the Amazon store itself, on this side of the pond though
Applications running in the cloud can't access all local resources: the Amazon App Store sandbox will permit access to the touch screen and accelerometer but apps requiring access to GPS, camera, microphone or even multi-touch can't be run remotely, so buyers will just have to take the plunge and down-rate things they don't like.
Amazon promises to extend the sandbox over time, linking up to more local features, perhaps (over time) reducing the dependence on local processing and shifting mobile applications completely into Amazon's cloud.
The patchy connectivity inherent in mobility will postpone that for a while, but for giving a game a quick test-run the cloud works fine, and gives Amazon the chance to test out how a cloud-based future would work. ®
Sponsored: Minds Mastering Machines - Call for papers now open