Hands on with the Motorola Razr Maxx
Marathon runner
First look In the time since Motorola's Razr was launched in 2011, rivals have released powerhouse handsets that make the Razr feel more Bic than Wilkinson Sword.
An upgrade beyond a simple Android 4.0 Ice Cream Sandwich patch was always a needed move, but with battery depletion the number one gripe among smartphone users, Motorola's decision to focus on a significant juice boost is a decision warmly welcomed.
A few significant hardware upgrades wouldn't have gone a miss, though.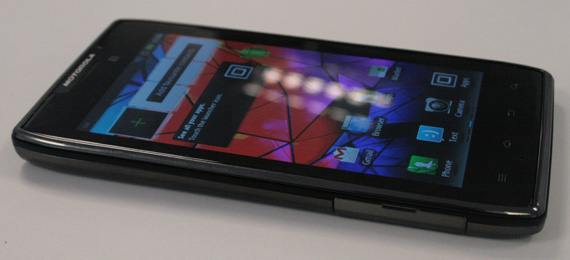 The Motorola Razr Maxx is essentially the same handset as its predecessor, only 2mm thicker, thanks to being bulked out with a new 3300mAh battery pack which, Motorola promises, yields a stunning 17.6 hours talk time.
Moto also claims the battery delivers 607 hours of standby operation. Yes, almost a month.
There's no way of testing this when you have the phone in your hands for an hour or so, but if as Motorola claims, the Maxx survives an entire weekend without recharge, it'll sure be a breath of fresh air.
Other new features include an improved version of Motorola's SmartActions - the company's power- and time-saving application. This automates tasks and changes the handset's profile settings based on previously set triggers.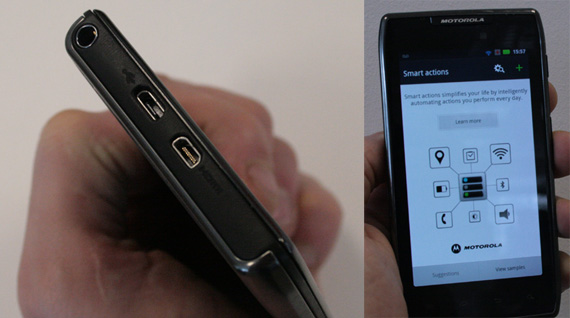 Punters can now have SmartActions collate their calendar entires and, say, automatically mute the phone during a planned meeting. There is also the option to make particular contacts "VIPs" so that their calls override the mute setting. That's nothing, fancy, it's true, but such SmartActions could shave seconds off an already busy schedule by automating basic tasks so you don't have to perform them.
Motorola also again talked up its MotoCast service, used to stream and now cache content to your phone from a work or home computer. This gives users the choice to bypass cloud storage options and work with the files they have at home. And store files locally, for when there's no net connection: on a flight, perhaps.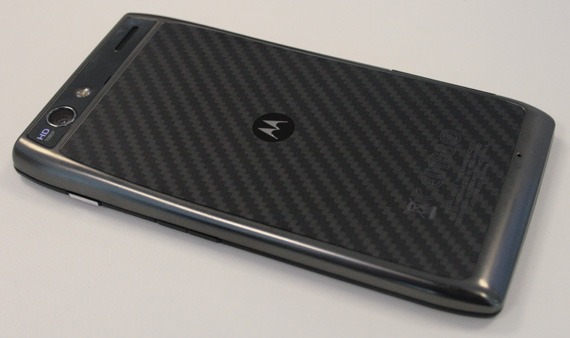 While the Maxx's 4.3in, 540 x 960 OLED display is as sharp as ever and perfectly respectable, I can't help but think Moto should have raised its game a little, especially now we're seeing a fair few 720 x 1280 mobile screens.
The Maxx also incorporates a rather chunky bezel which can make the phone seem bigger than it needs to be. The Samsung Galaxy S III has a much larger display and yet has very similar dimensions.
When I first saw the Razr, I was impressed by its display and praised the handsets build and spec. Unfortunately, the sentiment hasn't stood the test of time. Despite the fact it's barely six months since the Razr was launched, the Maxx's identical spec is now easily beaten.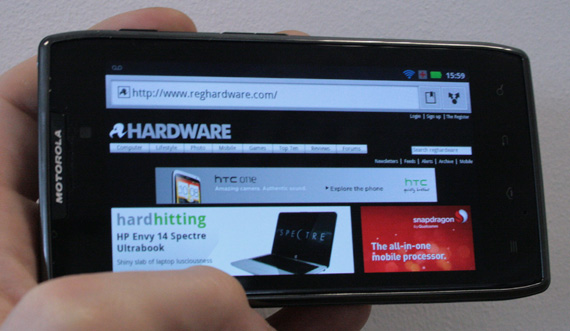 The squarer body shape - a result of the space the large, non-removable battery pack takes up - means there isn't that comfortable ridge with which to hold the phone. But, unless you have a shuddering dislike for huge handsets, the Maxx's feel in the palm is fine.
Its ruggedness is always a plus too. The Maxx continues the Razr's kevlar theme and, again, sports Corning's Gorilla Glass, as well as a splashguard coating on all components. I'm riiiiinging in the rain.
The 1.2GHz dual-core processor and 1GB of Ram provides significant brawn to run Android 2.3 Gingerbread without much of a hitch, although navigation isn't as smooth as I'd like. It would be nice to see how the phone handles the Android 4.0 platform too, for which an upgrade is promised by the end of Q2 2012. Better late than never, I guess.
Again, the 8Mp camera snaps fairly crisp photos that look slick on the qHD display, but don't quite match the velocity of the iPhone 4S, or even come close to the photography might of the HTC One X, the S III or the Sony Xperia S.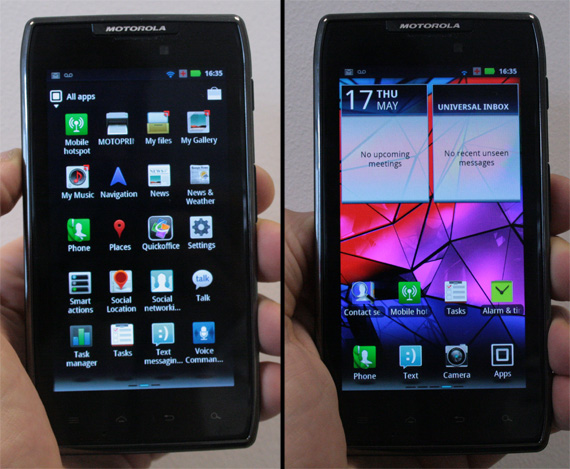 My first impressions haven't changed too much from what I saw with version one: it's still a slick smartphone with a lot on offer. However, it's all too familiar, and time and technology have moved on.
The Motorola Razr Maxx is available now for around £430.
Unfortunately, that feels a bit expensive for what you get, but with the lengthy juice life, at least you'll rarely be caught short with the dreaded ten… no wait… five… per cent battery warnings. ®
Sponsored: Minds Mastering Machines - Call for papers now open