Next UK.gov CloudStore lumbers online
Digital Dunkirk spirit
The second incarnation of CloudStore has floated, but don't get too excited.
Despite some rather aggressive Twitteresque drum-beating for the redesigned service Friday, the new CloudStore does not deliver the functionality expected – while a flagged feature fell down on launch day.
The new-look site, which happens to look a lot less flashy than version one, has moved to Government E-Marketplace (GeM) and can be entered here.
We are promised an improved search engine thanks to GeM, along with the ability to view supplier service definitions, terms and conditions, and the ability to compare services and standards side by side.
The Reg tried the comparison service on Friday afternoon and encountered a blank screen and error message each time we clicked and compared.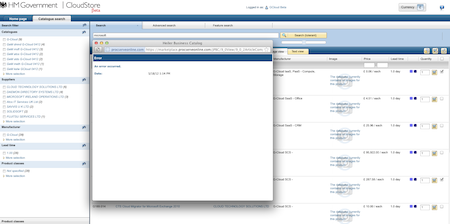 Don't compare this: the new CloudStore's comparison service in action
The promised user ratings are also absent. Sure, the site just launched so you can argue it's too soon for ratings, but there doesn't seem to be any space for ratings to appear next to vendors' products and services.
A Cabinet Office spokesman told us Friday that the addition of selected items to a comparison list was a problem across the whole of the government's eMarketplace – not just CloudStore – and that the problem had been rectified.
As for user rankings, he claimed these had not been promised for this iteration, but had rather been planned for introduction "in the future".
Government chief information officer Andy Nelson said a statement celebrating this rather shabby launch: "CloudStore will continue to evolve and change. For this iteration it made practical and financial sense to use an existing government platform.
"We look forward to feedback from users as we continue on our cloud journey." ®
Sponsored: Learn how to transform your data into a strategic asset for your business by using the cloud to accelerate innovation with NetApp