Boffins smash 3Gbps speed barrier with 542GHz T-Rays
Sky's the limit in terahertz territory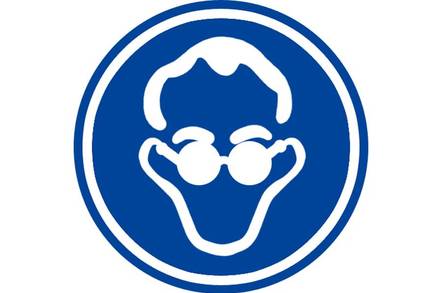 Japanese geniuses have maintained a 3Gbit/s radio link at 542GHz, opening up more of the electromagnetic spectrum to the voracious appetite of wireless data.
Not that the research will lead to super-Wi-Fi any time soon - but if the proof-of-concept tech built by the Tokyo Institute of Technology can be commoditised then it will provide a useful point-to-point link albeit one that will struggle to penetrate non-conducting materials. The system has been described in Electronics Letters.
Lower frequencies tend to have better range and can pass through almost anything, which is why wireless technologies started at the lower end. But once we'd filled the low end with analogue radio and then television we ended up with mobile telephony at 900MHz, and by the time 3G came along it got pushed to 2.1GHz despite the difficulty that band has pushing through building walls and even our own atmosphere.
Commercial fixed links, and spectrum licences, run up to about 80GHz. You'll find BT, UK Broadband and a few universities with holdings in that space, used for point-to-point connection which are quite short range thanks to the irritating preponderance of oxygen in our atmosphere (which absorbs waves at about 60GHz just as water sucks up 2.4GHz signals from Wi-Fi or Bluetooth kit).
Ofcom has opened up some frequencies above those bands, pegging out some spectrum above 100GHz for unlicensed use should anyone take an interest in using it. But it's the cost of signal generating and detection equipment that is preventing exploitation of the upper end of the radio spectrum rather than any practical problems with the waves themselves.
It's the production of radio signals up to 300GHz that makes body-scanners so expensive. Perv-scan kit uses millimetre waves* running up to 300GHz, which penetrate clothing, but not skin, to reveal concealed bombs (as long as they're not strapped to one's side), but making and detecting radio waves at such frequencies calls for expensive kit.
Last year Korean semiconductor biz ROHM managed to sustain a 1.5Gb/sec connection at 300GHz using a technique similar to the Japanese team. ROHM continues working on the kit, and is promising 30Gb/s links within a few years, which should work fine through our atmosphere and penetrate walls as long as they're not made of conductive material.
The UK frequency plan tops out at 275GHz, and the last couple of hundred GHz is allocated, in huge chunks, to satellite communications and research projects as the cost of the kit discourages any other application.
300GHz radio has a wavelength of 1mm, while 3,000GHz (three terahertz) is a tenth that and the range is known as the T-Ray spectrum. The top end of that is pushing against (and into) infrared, which stretches up to 400THz and then we're into visible light and talking lasers.
That will be the absolute limit, but it's still a very long way off. The Japanese development, and the ROHM work which proceeded it, are useful steps to exploiting what politicians like to call a limited natural resource when they're auctioning it off. Research like this demonstrates just how much spectrum there is yet to be filled without having to retune our tellies or give up our wireless microphones. ®
* or backscatter X-rays, but let's not confuse things further. Half the perv-scanners use millimetre waves.
Sponsored: Minds Mastering Machines - Call for papers now open