Flashy mutant Ultrabooks to shove pure SSD chaps off cliff
Ultrabook makers will embrace hybrid trend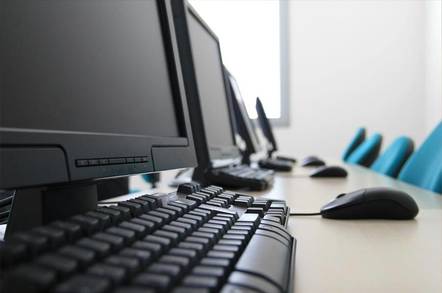 Storage industry research firm TrendFocus says Ultrabooks will increasingly use hybrid disk drives for their near-SSD speed, HDD capacity and ability to undercut pure SSD Ultrabook prices. Seagate thinks hybrid drives will eventually enter every part of its product portfolio.
According to Stifel Nicolaus analyst Aaron Rakers, the researchers at TrendFocus estimate that the solid state drive (SSD) market will more than double from the second quarter of 2011 to the second 2012 quarter – a growth of 271 per cent – due to significant price declines on a $/GB basis.
By the firm's reasoning, the price declines will encourage PC suppliers to use SSDs in their products and the development of Ultrabooks. It believes about a million Ultrabooks were sold last year and more will be bought this year because Ultrabook prices will drop below $1,000 and enter the $799 to $899 range.
The researchers have predicted that users will prefer Ultrabooks to tablets because they are near equivalent in price and support content creation as well as consumption. But hard-disk drive (HDD)-based Ultrabooks will be slower in boot and app-load terms than flash-based tablets.
TrendFocus sees Ultrabooks using thin - 7mm thick - 2.5-inch, hybrid drives, HDDs with a flash cache, to get near-SSD speed while still having much greater capacity than an SSD – along with a lower price. It is seeing such hybrid HDDs having a 20-32GB NAND cache with 320GB capacity on spinning disk.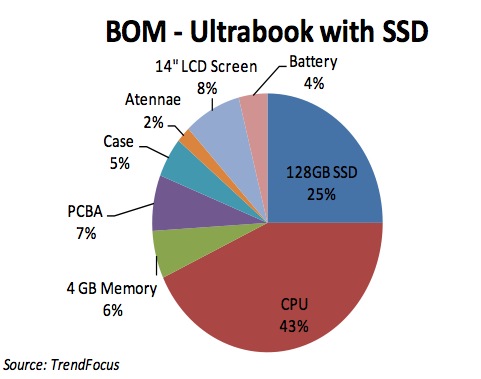 This would enable a lower bill of materials (BOM) cost for Ultrabooks as the two pie charts indicate. A hybrid HDD-based model would have storage contributing 19 per cent of the cost instead of 25 per cent.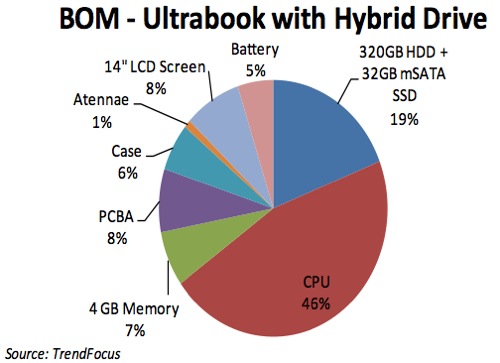 Rakers doesn't know if there will be any substantial rise in Ultrabook sales ahead of this year's holiday season and his views on arrival dates for 7mm HHDDs incline him to doubt it. Seagate's next HHDD should arrive possibly later this quarter or in the third quarter. A WD/Hitachi GST one should follow that one with a Toshiba product coming by the end of the year. He thinks that as many as eight OEM qualifications for HHDDs may have happened already.
Seagate and hybrid drives
He notes that, at an investor's conference last week, Seagate CFO Patrick O'Malley said Seagate is on its third generation hybrid drive, which it expects to be challenged by competitors as soon as 2013. Seagate would then be on its fourth generation drive and expects to have a competitive advantage.
It gained additional hybrid drive technology from Samsung, when it bought that company's hard disk drive operation, which it sees as critical to the future acceleration of hybrid HDDs as well as future developments of SSDs, and is integrating it with its own HHDD technology.
Rakers said the Samsung acquisition has allowed Seagate to co-develop its hybrid controller technology, while taking parts of its own developed technology to put in its controller. He notes O'Malley as saying that, as prices for flash continue to decline, hybrid will likely become a critical part of not only notebooks but eventually the entire Seagate product portfolio in the future.
Taken literally that means drives for notebooks, desktops, servers, storage arrays and consumer electronic devices.
Intel and Ultrabooks
Why is Intel pushing the idea of Ultrabooks – MacBook Air-like notebook computers – so strongly when it already supplies X86 processors to Apple for Mac computers? With Ultrabooks it is enabling Apple competitors to compete against MacBooks: something Apple will not support.
We have been told, with a reference to an AppleInsider article that Intel fears Apple will become a larger supplier of mobile processors than Intel, not to mention ARM-based processors, and that Intel wants to stop Apple/ARM entering the notebook product sector adjacent to tablets where Intel, so far, has virtually no presence.
Ultrabooks are a "holding strategy" until Atom chips become effective ARM competition and Intel gets an iPad processor design win from Apple. That's what we are hearing. ®
Sponsored: Minds Mastering Machines - Call for papers now open