Cheques not checking out just yet
Electronic payments surge in Oz, but don't bounce paper rivals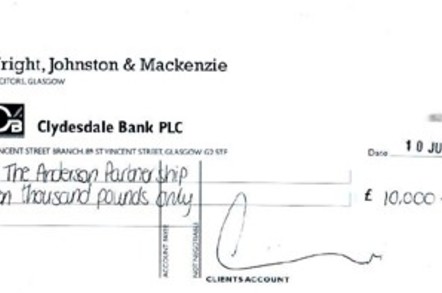 Electronic payments surging, but cheques not about to bounce Electronic payments are replacing the humble cheque, but not so fast that the descendants of the promisory note are irrelevant or should be hustled towards a hastened retirement.
That's the conclusion of the Australian Payments Clearing Association's (APCA's) new report, The decline of cheques: Building a bridge to the digital economy (PDF).
The result of community consultation that commenced in June 2011, the report found that consumers and businesses are voting with their wallets and abandoning cheques at a decent rate. Overall use has dropped 60% in a decade and the report says "In the past three years alone, cheque use has declined by over one-third."
But some people and industries still rely on cheques, the report says, with the elderly and residents of rural areas are still keen to send and get them in the mail. Those groups, the report suggests, should be subjected to gentle pressure through education campaigns that steer them towards electronic payments. Such programs will be useful, the report says, because as the volume of cheques declines the cost of using them will likely increase. The Reserve Bank's current estimates suggest that the cost of processing a cheque, as of 2007 processing a cheque is A$7.69, compared to $1.21 for credit cards, 67 cents for EFTPOS and 55 cents for cash. Education to wean cheque-lovers off cheques and onto other payment schemes will therefore help them to avoid those extra costs.
Industries that still rely on cheques, like real estate and superannuation, will receive APCA assistance to develop electronic payment schemes that satisfy their particular needs.
APCA also intends to conduct a range of activities aimed at making electronic payments more efficient. The report also recommends "policymakers and law reform bodies address regulatory barriers currently preventing a movement to electronic payments".
Those activities may hasten the demise of the cheque, but APCA does not intend to make that a goal. Indeed, the group also wants its members to work on better and cheaper cheque processing and will also form "a legal working party with state legal representative organisations and the government to undertake further research to identify legislative issues arising from the decline of cheques."
Another initiative will see APCA "liaise with financial institutions, the government and representative groups to improve access to the electronic payments system particularly for welfare recipients, low income earners, and the elderly."
None of those plans are expected to prevent the cheque's demise, which the report says will come as a result of market forces. ®
Sponsored: Minds Mastering Machines - Call for papers now open