Europe must shift R&D from car gizmos to infrastructure, honks wonk
Trying to constipate people's 'movements' is WRONG
Europe needs to focus on infrastructure and intelligent transport systems, one of the EU's top transport policy wonks said today, introducing the 13th EU Hitachi Science & Technology Forum in London.
According to Marcel Rommerts from the EU's Directorate General of Mobility and Transport, the bulk of transport research money in the EU is spent on developing new tech for cars. Rommerts asserted that research money would be better spent on projects that consider the transport system as a whole, rather than individual sections of it, and build up intelligent and resilient infrastructure systems.
Rommerts, who co-ordinates EU policy on transport research and innovation, said that the three big challenges facing Europe were high oil dependency, pollution and congestion. Rommerts was against governmental attempts to clamp down on mobility or reduce journeys as a way of easing the problem: "We should not think that we want to reduce the movements of people in our society," he said. He said that a better idea would be to look for ways for Europe to innovate and plan its way out of the problems.
Rommerts said said that 18 million jobs – or 8 per cent of jobs in the European Union – are linked to transport industry.
Aside from producing sexy new cars, the EU – and Europe's private sector transport companies – should focus on encouraging less obvious elements of transport, he said. One such method would be to look at alternative fuel distribution infrastructure and smart traffic management systems that can balance demand and capacity.
He added that although European companies are behind 40 per cent of the world's transport research investment, they were spreading this investment unevenly: while research and development in car manufacturing is strong (€17bn in 2008), Europe has much lower investment in rail (under €1bn) and low spend in infrastructure and transport management IT.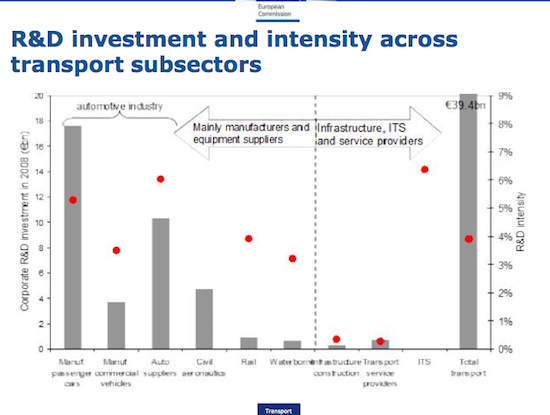 Crucially Europe needs to be better at deploying research technology rather than simply developing it, said Rommerts:
"We have to keep an open mind, because new tech may come up, which we need to encourage."
Reducing dependence on oil is also a core consideration, he said:
"Transport in Europe depends 96 per cent on oil. Dependence on oil is a very important challenge..."
Citing the EU's ambition to reduce passenger transport emissions by 60 per cent by 2050, he added that and that oil costs were only likely to rise in the next few decades. ®
Sponsored: Minds Mastering Machines - Call for papers now open