Samsung says 55in OLED über TV 'ready'
Factories on stand-by
It pays to read the small print, folks. Samsung once again showed off its 55in OLED TV today, but if you think it has gone into mass-production, you'd be wrong - it's merely "ready for mass-production", the South Korean giant admitted.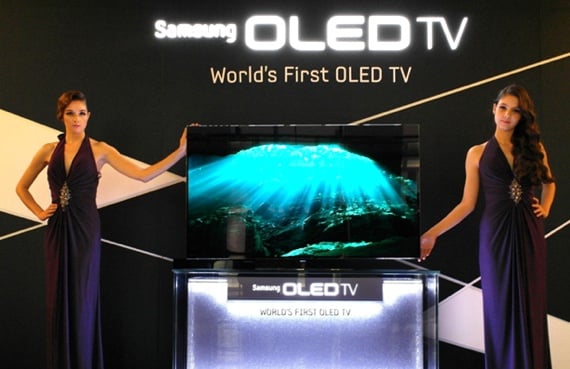 Fancy one of these in your living room?
Samsung first showed off the 55-incher at the Consumer Electronics Show (CES) earlier this year. Back then it didn't want to say what it'll charge for the set, and it doesn't appear to have changed its mind this time round. Hints suggest it'll cost $9000 (£5600) and go on sale in the second half of the year.
But it did note a new key feature: the ability for folk to watch two programmes simultaneously. It's an old trick, mostly used for gaming, but here it works with other content and delivers two full HD pictures rather than two half-vertical-resolution images.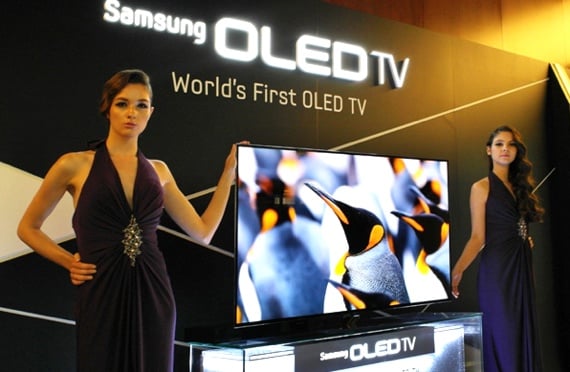 Cheer up, ladies, that's an eye-poppin' OLED
Instead of showing a 3D picture comprising left- and right-eye images, the telly sends two separate pictures down those channels. You need 3D glasses to see them, but Samsung said it will supply a new pair that deliver the appropriate soundtrack to earphones over a wireless link. ®
COMMENTS
"Fancy one of these in your living room?"
Yes please, the one on the left. Does El Reg have her number?
Re: Want!
To be clear - I want it for the superb colour gamut, grayscale accuracy, response times, low power usage, etc. - not the 2 TVs in 1 feature.
Re: point?
One major use I can see for this is Console gaming. 2 players in the same room, both having the full screen instead of split-screen? Yes please.
Re: point?
Would you really want to have two 55" tellies side by side? I can see me wanting this tech so that my missus can watch her bloody awful singing/dancing/voting programmes while I turn to the Dave channel.
No need to ponce about with recordings and we can both watch something we like in the same room at the same time. Makes sense to me.
Tsk, Samsung copying Apple again...
Oh, wait.