Intel CEO predicts DOOM for fab industry and competitors
We'll be top dog for years, Otellini tells investors
The semiconductor industry is at a major inflection point Intel's CEO Paul Otellini predicted today at the company's analyst day, with the increasing cost of manufacturing causing a shake-out among the biggest chip players that, he said, would only leave two or three companies at the leading edge of chip design.
Intel veteran Gordon Moore had predicted a thinning out of chip fabrication facilities once the cost of a new 200mm wafer manufacturing plant hit $1bn, but he'd been a little too early, Otellini said.
The reduction in the industry is beginning now with the cost of 300mm wafer manufacturing plants hitting $5bn he said, and the situation will accelerate with the launch of 450mm wafer fabs that would cost upwards of $10bn apiece. Such expensive facilities needed steady orders to be profitable and only a few companies, Intel included, could manage such consistent volumes - with Samsung likely to make it too.
This move would be intensified by the changes needed in designs and materials needed to build the next generation of computing chips. The move to production of Tri-gate technology has taken 10 years to develop, he said, and not many people could afford the R&D costs. Chip etchers without access to this kind of research would be forced into production of lower-spec, cheaper chips.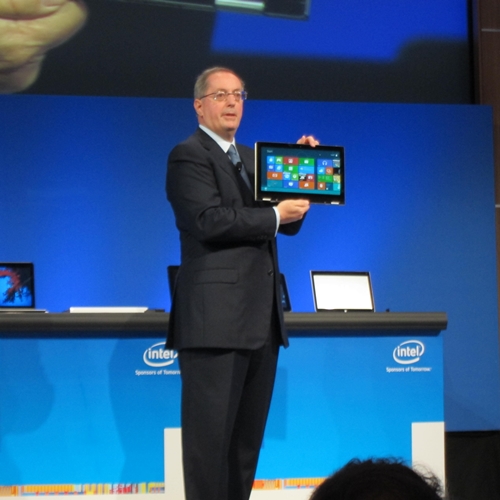 Otellini is confident of competing with Apple on tablets
Otellini also had words of warning for ARM, Power, Sparc, or any other RISC chip and anyone else with a different architecture looking to cut into Chipzilla's markets. Intel has boosted Atom development to double Moore's Law and the latest z2460 smartphone chips were getting good reviews and would move to 22nm transistors next year, with Intel aiming to be a leader in ARM's core market. As for Windows 8 on non-Intel systems, Otellini warned that ARM is in for a rude awakening.
"ARM has a big uphill fight against what we're going to do – we have incumbency, legacy support, and the capabilities of Intel for scale and power," Otellini said. "Critically for CIOs, and also end users, is that drivers are just going to work. There will be some compatibility challenges for other architectures."
RISC processors are also in Intel's sights, with a push into the communications systems market with the latest Xeon processors. Communications vendors were moving away from proprietary RISC-based systems and Xeon was ideally situated to offer a more open architecture, Otellini claimed.
As is usual, an IT vendor is claiming that something that is pervasive, popular, and less costly is therefore open. This is not the case. The X86 architecture from Intel is precisely as open as an IBM mainframe.
Apple, too, will be addressed. Intel's forthcoming slim Ivy Bridge processors will enable Intel to offer Apple competition in the tablet space and Chipzilla is also planning a massive push around Ultrabooks to give OEMs something to compete with the MacBook Air.
All this means Intel is predicting a bright future for its sales and profits, which isn't surprising given that Otellini's audience for Thursday's meeting is investors (and the odd hack.) Despite the optimistic predictions, El Reg suspects ARM and Apple won't be trembling in their stylish yet affordable shoes. ®
COMMENTS
Re: OK
why does the os matter, most of the code will be written in a high level language with the board support package have to be written for most chip change anyway. If apple see an advantage in using atom through a combination of cost, power, speed, size I'm sure they would use it to maintain market dominance.
intel builds a mean fab
They're moving to 45cm wafers? And at 22nm? That's a lot of chips per wafer. Wonder what the yield figures are; whether this isn't simply a brute force approach to too many broken chips in production. Just too bad they're not doing too well with the other side of chip innovation. How's itanic, these days?
The thing is of course that it's becoming increasingly clear you don't really need all that processing muscle for day-to-day computing needs. An ARM core or two like in a recent smart phone would do pretty well on the desktop, too. Provided your software is halfway efficient and doesn't waste most of the cycles available on eye candy. We might even see people attach a keyboard and mouse to a tablet, stick it in a stand, and write emails, letters, do homework, that way. Leave the keyboard at home but take the tablet. Another upshot: No active cooling, so not as noisy as a laptop. Even atom still runs too hot to fit this purpose.
It might be that intel simply isn't making enough headway fast enough in the lower end of the computing spectrum to not end up in a slowly contracting but, of course, for the foreseeable future still rather large niche. Should, say, ti manage ARM cores in something comparable to 22nm tri-state, intel will have a serious problem, even if they're two nodes ahead by then. And though I actually know very little about the economics involved, I wouldn't be surprised if it turns out that 45cm wafers aren't necessary to stay competetive if the chip itself is small enough. The high end are monsters, but if say only a quarter of the same chip real estate is already enough for a nice product with a good margin....
Which is to say, intel has some very, very nice cards in its hands, but not all its cards are on an equal footing, not quite. So the competition needn't fold yet, which I'm sure they won't do.
>ARM has a big uphill fight against what we're going to do – we have incumbency, legacy
Wow isn't that the same language Nokia uses to ward off the analysts after every disastrous quarterly earning call?
Re: OK
You do realize that the Air runs on Intel processors and not ARM. Intel wins there already.
Don't count Intel out, the CPU business is their main focus, and, you can bet they are focusing big time on this. Next year will be interesting.
Re: lmao@Intel smartphone
Intels Medfield platform benchmarking seems fairly competitive with e.g. a Galaxy S2 type phone for performance and power - where does your 4x statement comes from? No reason to think that a more up to date design plus the 22nm process shrink won't yield a very competitive product to ARM based SoC within a year or so.