OLED to take 0.02% of TV sales through 2014
Liquid Crystal Domination
Samsung may be keen to tout OLED as the future of television tech, but it'll be a good few years yet before sales of organic LED screens come to match plasma and even CRT, let alone LCD.
DisplaySearch, a market watcher, this week forecast effectively zero growth for the TV business this year. Shipments of LCD TVs will be up seven per cent, it said, but that increase will be absorbed by an equivalent fall in shipments of CRT and plasma sets.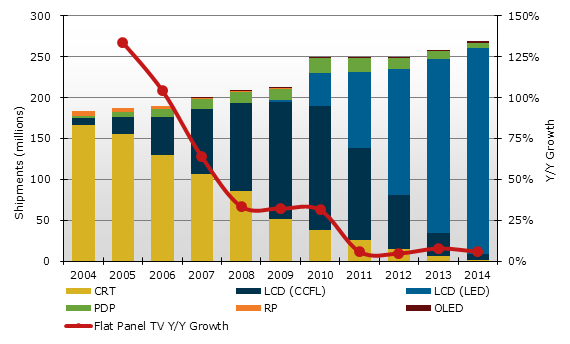 Source: DisplaySearch
DisplaySearch reckons some 250m TVs will ship worldwide in 2012, pretty much the number that shipped in 2011 and, before that, in 2010.
OLED has taken and will continue to take a tiny, tiny slice of those sales - 50,000 sets or less, says DisplaySearch - new sets from Samsung and LG for sure, and Apple maybe, notwithstanding.
Shipments of 3D TVs is growing, but just as LED backlighting technology is replacing fluorescent backlights in LCD TVs, there seems nothing in DisplaySearch's numbers to show that 3D adoption is anything more than a product of the way tellies are made these days. Here, most folk would rather have BBC iPlayer on board than 3D. ®
COMMENTS
OLED Tech?
Isn't this somewhat misrepresentative of OLED tech as a whole?
Sure TVs to some are most important, but in fact of equal importance, surely, is the awesome rise of OLED tech in a much smaller footprint - that of the smartphone. Sales of OLED panels, be them only around 4 inches, must be through the roof in relation to 30"-50" OLED panels.
I have kept an eye on the rise of OLED tech for years and years, have been looking forward to it for just as long, and since getting my Galaxy S2 phone last year, I will now probably never buy a phone with an LCD screen ever again.
As for the next step in tablet displays, future Samsung and Apple revisions are looking more and more likely to move to OLED tech, therefore 7"-10" panels muscles in on OLED sales percentages too.
.
These figures being for TVs only is fair enough, but surely falls well short of the whole story, and in fact may mean OLED tech takes off for TVs much sooner than is anticipated in that graph. If ever there is a reason for OLED tech not hitting TVs sooner than later, it can only be artificially due to manufacturers stretching more life out of LCD tech and keeping OLED TV prices high. But that would never happen, would it!?
What about FULL LED?
Moved to a 46" LCD screen with edge LED backlighting and I must admit I am disappointed by the obvious clouding effect. LED brings lower power consumption hence slimmer tellies but is a step backwards in image quality in my opinion.
FULL LED and OLED have been promised for long but do not seem to be able to materialise at a decent price.
There's a big hole in my life
Where my 22" CRT monitors used to sit.
I like the space, but I do miss the resolution. And they used to keep the room warm.