SSD sweetheart STEC swings to Q1 loss
First mover disadvantages for industry pioneer
If ever you needed a salutory tale about the perils of sitting on your laurels, then STEC, once EMC's SSD darling and pioneering enterprise flash high flier, can provide it in spades. First movers have got to be fast and STEC was unconscionably slow.
The company's Fibre Channel interface Zeus-IOPS solid state drives (SSDs) were picked by EMC when it first added SSDs to its then Symmetrix arrays. STEC revenues and its stock price rose and it picked up IBM and HDS as OEMs on the back of EMC.
Other companies soon began to pile into the SSD market, adding SAS and SATA interfaces and PCIe ones for directly attached server flash. Controller companies like Pliant and SandForce provided the controller smarts to SSD suppliers like OCZ, OWC, and many others joined in to mine the rich SSD demand seams opened up by STEC's success.
And STEC? It sat back, getting fat and happy. By the time it realised it needed to broaden its SSD interface and form factor offerings, it was much too late. It is now in OEM qualification hell, waiting for OEMs to approve its new products, and lacking any effective retail and online channels.
The latest quarterly results – for its first fiscal 2012 quarter – show the effects of this, with a chart of rising and then falling quarterly revenue and net income followed by net losses showing the business problem clearly.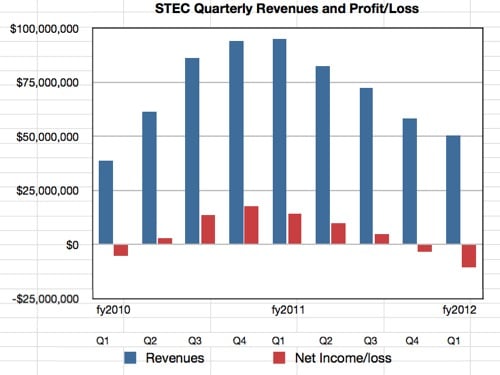 First quarter revenues were $50.4m, almost 50 per cent down annually and 13 per cent less than the preceding quarter's $58.1m. Net income was a loss of $10.7m compared to a profit of $14.15m a year ago and a deeper loss than the previous quarter's $3.6m.
STEC chairman and CEO Manouch Moshayedi said: "We continue to qualify our products at both existing and emerging customers. We remain encouraged by the increase in overall market activity for enterprise SSDs and are making significant strides with the fourth-generation of our ZeusIOPS SSD, and our MACH16 SSD, PCIe SSD, and EnhanceIO caching software."
He couldn't say anything else in the circumstances. We don't expect any revenue pickup until the fourth fiscal 2012 quarter and even then it's relying on the same old OEM model with feisty new enterprise SSD entrants like OCZ, well-funded ones like SanDisk and experienced HDD supplier WD's HitachiGST providing ample competition.
Even in the PCIe space STEC faces severe and energetic competition. It's facing a long haul with product performance, endurance and quality the three horsemen that are needed to pull it out of the mire in which it's currently stuck.
STEC expects its revenue fall to continue, with next quarter seeing revenue of between $40m and $42m, indicating another thumping loss. ®
Sponsored: Minds Mastering Machines - Call for papers now open