Electric isometric
One room in particular, which had you zig-zagging between deadly red-hot cauldrons, would require pixel-perfect movements in order to reach the exit. And with limited lives for each character, you could quite easily have one of them perish outright, thus rendering the game impossible to finish with the surviving one. There was no chance of resurrecting the other.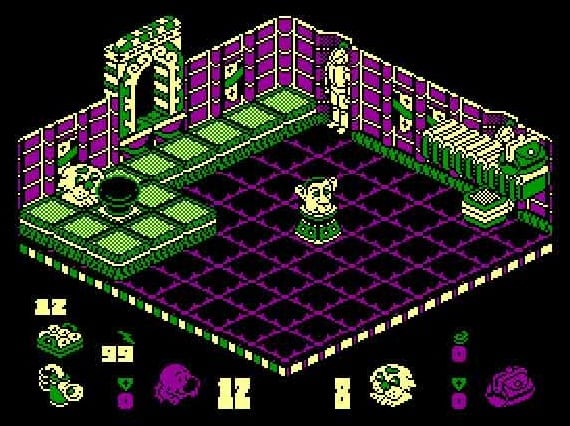 May I jump on your head, your highness?
There was a primitive continue feature in the form of a resurrection fish which, when eaten, would allow you to respawn should the grim reaper come a-calling on you, which softened the blow somewhat. Just steer clear of any dead fish, as they would prove toxic.
See how important it was to read the cassette inlays in those days?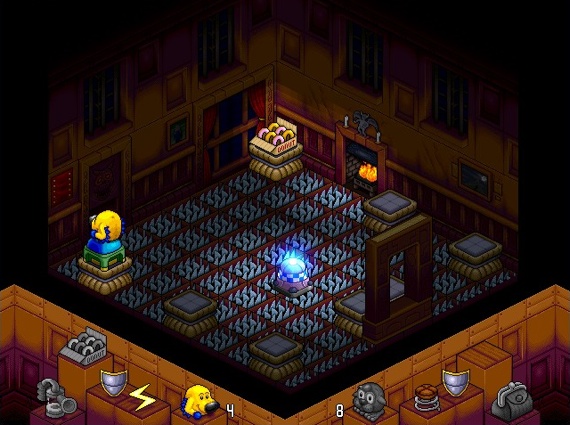 Revamped for a new millennium
What was also interesting was that although the game contained hundreds of puzzle-packed rooms to explore - with more than a few 'how the heck am I going to get up there' moments - you didn't have to venture into all of them to complete the game.
The aptly silly plot involved liberating five planetary crowns, four of which were located beyond a teleportation hub situated around the game's mid-point, and while it was a joy to zip about the four very uniquely designed planets - Aegyptus, Safari, Bookworld and Penitentiary - you didn't necessarily have to collect all five crowns; just fleeing the main planet was a charge in itself.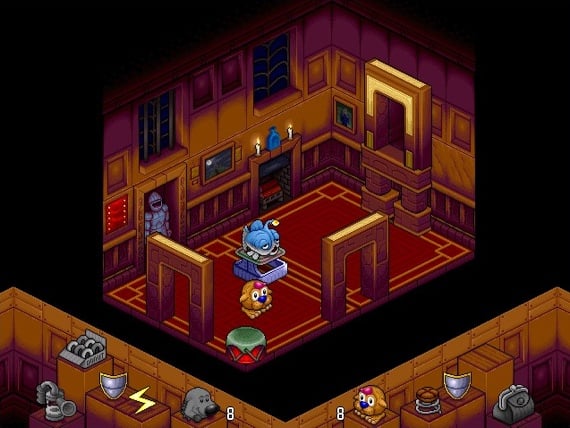 You had to map it out on paper as you went, fine for players with a few technical drawing skills, but a bugger for the rest of us.
Like many games of recent years, there was a PC remake created a few years ago, although to my knowledge there is no option for infinite lives, and the refined save option still requires the consumption of a resurrection fish. So don't rest on your laurels of modern-day hand-holding, this game was epic.
If HoH passed you by back in its day, I would heartily recommend you seek it out. You'll fall head over heels for it. ®
Antique Code Show is published every two weeks on Wednesdays
Developers Jon Ritman and Bernie Drummond
Publisher Ocean
Year of release 1987
Platforms Spectrum, Amstrad CPC, Amstrad PCW
More Retro Games

Ten... 8-bit classics
Carmageddon
Leisure Suit Larry
System Shock
The Dizzy Series
COMMENTS
Thanks Guys
One would almost imagine this story was a plant, only a very short time till HoH is released on the iPad (and the iPhone a little while after that)
Glad you enjoyed the game and a sorry to those who found it too hard, good to have it remembered after such a long time though
Cheers
Jon Ritman
Link
Seeing as the 'Buy from Amazon' link at the bottom of this article helpfully suggests the riveting books 'All About Joints: A Maintenance Guide' and 'The Science of Beauty Therapy', may I suggest this rather more helpful link to the free download of the remake, available for Windows, OSX, BeOS and Linux:
http://retrospec.sgn.net/games/hoh/index.html
Re: Link
Finally a use for my G4 Mini
Re: People keep reminding me of old isometric 3D games lately
Is there any love here for 'Spin Dizzy'? I'd love to see that on a phone or slablet.
Ahem - "Knight's Lore"?
Does one perhaps mean "Knight Lore"? And the intro waffle is rendered a tad worse than it is by knowing that the working title of this game, until very late in the process, was actually "Foot and Mouth".
A truly excellent game though.
The remake has a slight imperfection, in that its rooms are all slightly larger such that it allows you to get stuck around the side of a doorway or fall off the outside of platforms that should be against the wall. Other than that it's a lovely rendition.