Chrome beats IE for a weekend
Google creeps up on leisure time browsing crown
Fresh from knocking off Microsoft's Internet Explorer as the web's most-used browser for a single day in March, Google's Chrome browser has now claimed more users than Redmond's HTML-cruncher for a whole weekend.
Data gathered by StatCounter shows Chrome has enjoyed a day of dominance on most weekends since its March ascendancy. On May 5th and 6th, however, it opened a gap over IE. Sunday the 6th even saw Chrome take a lead of nearly three percent.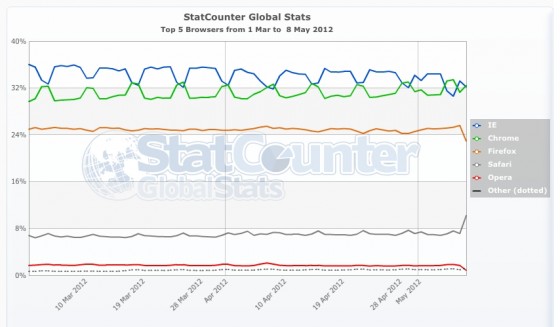 IE still rules on weekdays, when use of the browser surges, presumably thanks to corporate drones diligent workers returning to the locked-down world of enterprise IT. But IE's days as the market leader may even be numbered in those environments, as Microsoft has recently announced SharePoint and Microsoft CRM will support other browsers. That move will mean workplaces have fewer reasons to insist on IE as the corporate standard. ®
Sponsored: RAID: End of an era?