Cheap MacBook Airs for all!
Apple pondering 25 per cent price cut, apparently
Apple's cheapest MacBook Air will currently set you back $999 or£849, depending on where you buy it. Wait until August, and it could cost you just $799/£640.
So says Digitimes' inevitable unnamed laptop industry mole, but it's worth noting that the rumour is simply that Apple is thinking about cutting the price of the skinny laptop.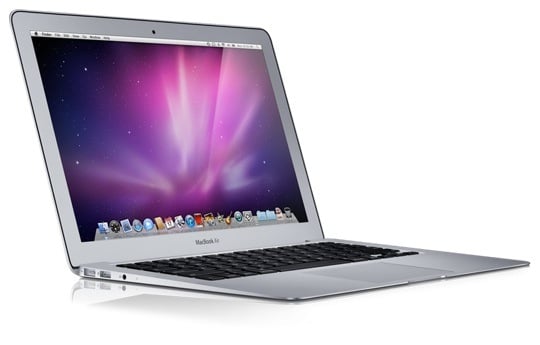 Its motivation to do so is the impending arrival of Windows 8 for Ultrabooks based on Intel's upcoming Ivy Bridge mobile processors.
At the moment, Apple's price premium is no obstacle to sales, but it could become so if Intel and co. can get prices down by a couple of hundred quid or so.
There's no indication they will be able to achieve that goal, and any price cut is likely to be based on reducing general materials costs - shifting to plastic chassis, for example - which will leave Apple with its all-metal casing appearing to justify the extra cost.
That said, Apple is rolling in money right now, and could easily afford to subsidise Mac prices a little - but not too much; it doesn't want to lose the air of premium product, even if it's machines aren't radically different from any other vendor's offering. ®
COMMENTS
Put a sticker on it
A friend's wife was complaining that she wanted an Apple MacBook for her birthday (a couple of years ago), so he did just this. He bought an HP, stuck a *really crappy* apple sticker over the HP logo, and she was, and still is, very happy with it.
Cue the moans from current Air owners going....
..."Wahhhhhhh all these plebs are joining my expensive club...wahhhhhh! I won't look so special sitting in Starbucksa with my precious...wahhhh!"
Etc. Etc.
Oh you look special alright.
Correction. They are not 'radically' different since form follows function.
Dolphins copied sharks
Sharks have been around for longer, so it is obvious that dolphins copied sharks. And the Thylacine clearly copied wolves and hyenas, but their industrial espionage failed them on the placenta blueprints. The sharks considered suing, but they know dolphins are more intelligent and can put on a better presentation in a court of law.
Anyone here is welcome to get their crayons out and show us how to make a thin light laptop that doesn't look like a thin light laptop.
Re: Best job in the world
I disable AdBlock on The Reg, because it was the Reg that told be about it. And they asked me nicely not to use it. It's no hardship on me, because El Reg's ads tend to stay on the right, and don't pop up all over the place like some sites do.
They asked nicely, and I feel I want to encourage that kind of courtesy.