US economy not eager to create jobs in April
15,000 more system designers get work
The Bureau of Labor Statistics, the job-counting arm of the US Department of Labor, says that job creation in April was lower than economists had been expecting, but went back and revised its figures for February and March, saying that more workers found jobs than it originally thought.
The latest jobs report (PDF) shows the results of surveys of employers (called the establishment data) and workers (called the household data). The household data is used to calculate the unemployment rate and wages, while the establishment data is used to reckon the number of workers by industry and how this has changed each month.
Based on the household survey, the BLS reckons that 342,000 people left the workforce pool, leaving 12.5 million people still officially unemployed. (By unemployed, the BLS means people don't have work and are still looking for it. If you stop looking, they stop counting you in the workforce pool.) This shift of people out of the pool of workers made the official unemployment rate drop by a tenth of a point to 8.1 per cent, but this is nothing to crow about given the circumstances. It would be much better for the economy to be adding hundreds of thousands of jobs and the unemployment rate holding steady or maybe even rising a little as workers are pulled back into the labor force from economic obscurity to look for and then find jobs as the overall economy expands.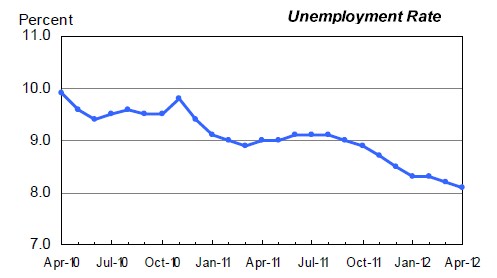 The official US unemployment rate
Based on the establishment survey – which counts payrolls at private companies and local, state, and federal government agencies – the BLS reckons that 130,000 private sector jobs were created in April, quite a bit shy of the 200,000 or so that are needed to keep up with population growth alone and considerably lower than the hundreds of thousands needed to take a bite out of the pool of unemployed workers and the arguably equally large group of people who stopped looking for work but who surely and very likely desperately want it. Governments, which stopped chopping jobs a bit for the past several months across the 50 states and Washington DC, resumed the cuts in April, slashing 15,000 workers. The net 115,000 new workers added was lower than the 168,000 that economists had been projecting.
The good news, if there was any, is that the BLS thinks companies added more jobs in the prior two months, with March's net new jobs increased to 154,000 (up from 120,000 reported last month) and February coming in at 259,000 (up 240,000 when originally reported in March). Over the three months, that's an average of 176,000 jobs, which is not great but it has been a lot worse. The average was 252,000 per month from December through February, bolstered by the holiday buying season among other factors.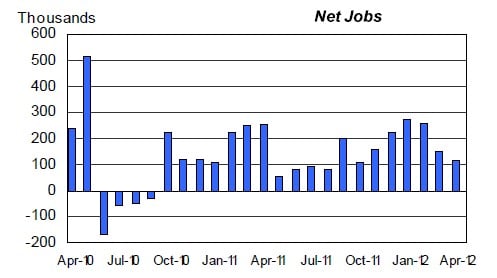 Monthly net job creation and destruction in the US
The services, retail, and healthcare sectors were the big job creators in April, according to the BLS. Companies engaged in professional and business services added 62,000 jobs, while healthcare firms added 19,000 and retailers added 29,000. Americans are still goofing off a little, and the leisure and hospitality industry added 20,000 workers last month. Even the manufacturing sector boosted payrolls by 16,000. But transportation and warehousing companies, after a late winter and early spring retail boom, cut 17,000 workers. All the other sectors were more or less unchanged.
There is no such thing as the IT industry as far as the BLS is concerned, so you can't see how many jobs were created for programmers, system admins, database gurus, or project managers. (This might be quite useful, and maybe someday the BLS will track jobs by type as well as jobs by industry.) But we can extract an IT industry proxy of sorts out of the industry data. Rather than using the seasonally adjusted data, I like to look at the raw data here. I don't think the seasonal adjustments make a lot of sense for these industries, for one thing, and for the other, I don't think massaging of the numbers based on past times when the economy is good is necessarily valid when the economy is wobbly – as it is.
Computer and peripheral equipment makers were in no hurry to boost payrolls in the first quarter, adding only 400 workers to a total of 163,700. Communications equipment makers shed 1,100 jobs to 109,100 workers, while semiconductor and electronic component makers added a mere 100 workers to 387,400.
Within the information sector, which includes all kinds of media and communications, companies engaged in data processing and hosting had 243,000 workers as April came to a close, up 600 people. But telecommunications firms continue to cut workers, and shed 5,900 people for a pool of 832,000 after the pink slips were handed out.
In professional services, companies that are involved with computer systems design and related services added 15,000 workers for a total of 1.58 million people across the country. Management and technical consulting firms, which often have an IT component to their work (let's face it, it is hard to avoid IT in any field, including farming), added 11,000 workers for a total of 1.12 million people in that field. ®
Sponsored: Minds Mastering Machines - Call for papers now open