Bad connection...
The issue of plausibility is another problem for me. It just seems faintly ludicrous that upon consumption of a soldier Heller can run, jump and perform aerial acrobatics that would steal the show at even the Olympic Games and yet within army bases his moves rouse no real suspicion.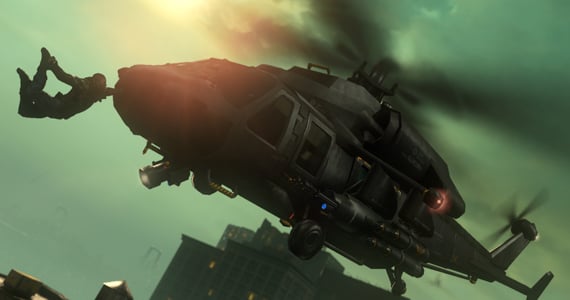 Heller-copter
Yes, he might be garbed in the correct uniform but, come on, at least make us behave suitably as we infiltrate what are supposedly the most secure bases in the world.
Radical should have either gone the whole hog and gifted Heller with Nightcrawler-type teleportation, therefore freeing the player from having to even bother with the pointless infiltration sequences in the first place, or made the enemy AI smarter so that the player had to walk the line completely or be found out. The middle ground just doesn't make sense.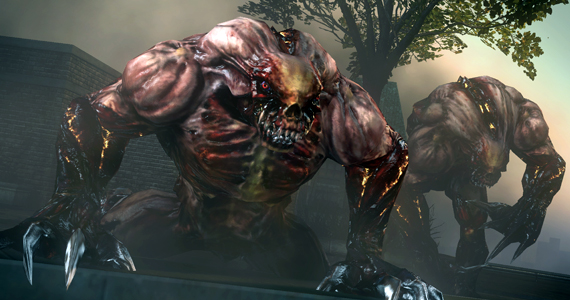 Someone didn't get their beauty sleep last night
Causing similar confusion, and acting to instantly distance me from the narrative, is that Heller's presentation as a completely unsympathetic protagonist. Don't get me wrong, I'm not expecting Shakespearean levels of literary dialogue, but every curse word uttered - and there are many - further diminishes any sense of connection to him or his plight.
Verdict
I'm left with a sense of déjà vu. As with the original, the sequel is based on an impressive premise which needs work to become the real deal. And it's not like Radical haven't had time, considering the years since Prototype's release and the fact that much of the foundations of what you see here were already laid in their Incredible Hulk: Ultimate Destruction game for Nintendo's GameCube many moons ago.
Prototype 2 isn't a bad game and it does make undoubted strides – its visuals, action and effects are all testament to that – but rather like Sergeant Heller's psychological make-up, the whole thing feels fragmented rather than the finely tuned finished article I expected. ®
More Games Reviews

Resident Evil:
Raccoon City
Twisted
Metal
Mass Effect
3
Syndicate
The Darkness 2

Prototype 2
This time it's James Heller's turn to get freaky as Prototype returns. Available on Xbox 360 (tested) and PS3.
COMMENTS
Get Infamous/Infamous2 instead
Similar game, superior in every respect..
Nuff said.
Yeah, might look out for this one on discount.
This is a good example of why the 2nd hand market needs to exist.
It looks like it could be fun, but not £50 worth of fun, maybe £15, it has no real long term value, no reel 'keep factor'. The above poster is bang on, inFamous 2 feels like a far better value product thanks to the in depth editor and greater possibilities.
I'm sure it's just another game which Activision, EA and the like will point to in an effort to show how 2nd hand sales are killing their market, but the simple truth is it isn't worth the asking price, very few games are. In this case I don't think it's even worth the asking price after being reimbursed by a trade it so I will be waiting until it can be picked up sub £20 and if I can't find it at that price point, I won't be buying it.
That's not to say it's a bad game, the review and rating seem fair from what I've seen of it but things need to be priced more realistically.
Prototype was good for mindless action...
But unfortunately, as the author worded quite well, that will eventually become boring. I enjoyed the original Prototype but many aspects were far too limited for my taste. You could consume people after which you could take over their personality. So far, so good.
But only when consuming /specific/ people; it didn't stick. For example; a terrified person comes up to you, you consume him/her to replenish your health. Then I'd expect to know what scared the heck out of the guy/girl. For example; knowing where the nearby enemies are located. But Prototype never went that deep. Which disappointed me to some end.
Back in the day Prototype stood directly against inFAMOUS; after careful consideration I eventually picked Prototype. It was good fun, and it still is (I still play Prototype occasionally). But now I think inFAMOUS is the better of the two. The side missions in inFAMOUS added to the whole storyline and expanded heavily on the feeling of being in a city which was in total anarchy. The Prototype side missions on the other hand were mere tests. Race to the top of a building, glide to the spot marked X, consume as many people as possible, etc. It was fun, don't get me wrong, but it never added up to the story of the game itself. Within that context the tests never made much sense...
When looking at the inFAMOUS sequel I think its obvious that Sucker Punch (company behind inFAMOUS) realized all too well that this stuff could get repetitive. And so they added a state of the art (IMO) editor to the game. Some critics considered it a sign of weakness, but owning inFAMOUS 2 I think it was a sign of brilliance. Even now I enjoy messing with it; not bad for a game which storyline you could finish in a few days! The editor is easy enough to let anyone work on it (you don't have to be a graphic artist to build up a story) yet advanced enough to really build something deep.
Prototype 2 otoh... I still think it'll be fun, but I'm not quite tempted to get it, maybe second hand or after a year or so at a (heavily) reduced price. It simply seems to be more of the same.