Telly is becoming moving wallpaper for constantly online Brits
Plus: UK is nation of liars - only 14% admit viewing porn
Wiggin's gigantic annual media survey is out and, as ever, the results are full of intriguing figures covering everything from fondleslabs to filth.
This year's responses to the Digital Entertainment Survey [PDF] will leave TV executives, streaming services and pirates feeling anxious - while book publishers and social networking sites will be well chuffed. eBooks emerge as the strongest media growth sector.
Law firm Wiggin commissioned Entertainment Media Research to quiz 2,500 UK punters this March.
Of those polled, 60 per cent watch TV live when it's scheduled, although that's more popular among the over-55s (79 per cent). Social networking is almost as popular now as live TV, and 46 per cent of the population use Sky or another PayTV service.
But we might have to redefine what we mean by "watching". Almost 4 in 10 viewers are surfing the internet on another device as they watch telly, and 29 per cent are using a social network on a second screen while the main TV is on. So live TV, for a lot of people, is something now quite ambient.
Some broadcaster suits will take this as a call to make TV more interactive, while others will see the need to make shows more engaging so people put the damn notebook tablet phone down, and watch.
As for the much-hyped 3D TV revolution, people with 3D sets are generally happy with the tech, but the majority of refuseniks don't see the attraction. Fully 63 per cent of 3D TV adopters say they're fairly satisfied with it, but there are strong reasons for people to shun them: cost was cited by 48 per cent of the survey, 38 per cent were simply not interested in 3D content, and the requirement to wear glasses put off 32 per cent of the sample.
Similarly, the failure of manufacturers to establish a real tablet market means many punters are holding off buying a shiny slate - and it may never be a mass market. Some 42 per cent say tablets are still too expensive and 27 per cent are waiting for the price to fall. But 33 per cent prefer a laptop and 27 per cent just don't see the need for a fondleslab.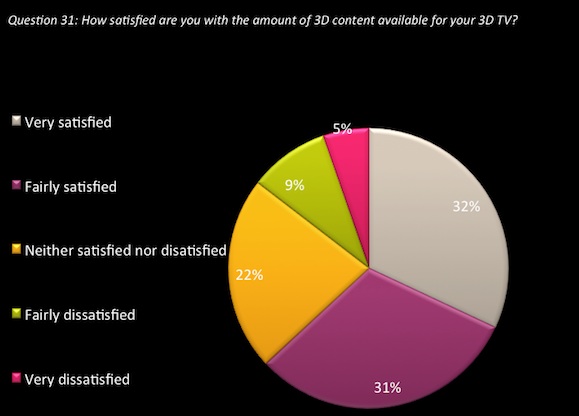 3D TV: "Meh"
And copyright protests don't seem to be scaring anyone except politicians. Even after SOPA and ACTA, 53 per cent of the wider public agree that there should be more regulation to combat copyright infringement, while just 18 per cent disagree. A majority 64 per cent think British IP law should apply online. As for the "unstoppable tide" of infringement, 16 per cent said they'd do less file sharing or downloading software (18 per cent) in the next year.
Previous surveys have shown that even pirates want stronger measures against piracy.
But once the authorities start to whack the occasional freetard - to great public cheer - er, then what?
For media executives looking at subscription services to save their businesses, the same poll doesn't bring good news.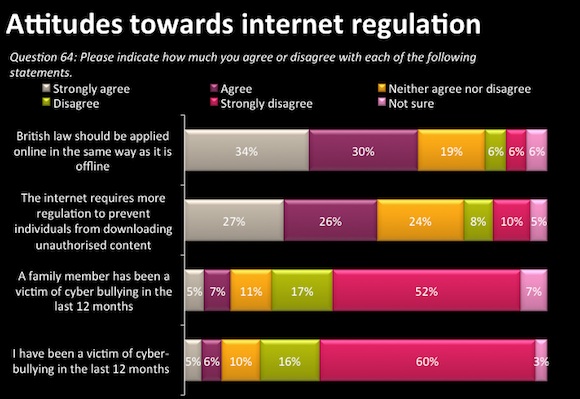 Internet piracy: "Whack 'em"
Only six per cent of the survey subscribe to a music streaming service. Three years ago, just after the launch of Spotify, it was four per cent. The needle hasn't moved. And Spotify subscribers are typically fifty-quid-a-week blokes. Which means the music industry has saved middle-aged music lovers £47.50 a week, right? Quite a business strategy.
Overall there's a reluctance to pay for subscription services. A third of the survey group subscribe to internet entertainment packages, and of that group, 19 per cent belong to free schemes. Just 45 per cent of this group pay over a tenner.
Perhaps the compelling service just hasn't been invented yet.
Other consumption habits are worth a note. More people read newspapers online than play online games. Just over a third - 36 per cent - gamble, but most do so only infrequently. More people now listen to internet radio (18 per cent) than rent DVDs (13 per cent). And 14 per cent admit to watching porn.
As for heroes and bores: Apple scores highly as an innovative brand (31 per cent), but nobody else registers. Google rubs along with Sky and Microsoft at 4 per cent. And the most "boring" brands are Facebook and Twitter with Motorola, BT and the BBC close behind. The BBC is considered more "outdated" than Nokia. ®
Sponsored: Minds Mastering Machines - Call for papers now open