ARM creators Sophie Wilson and Steve Furber
Your phone, your tablet - their chip tech
Not Apple, affordable
The Apple II had appeared in the States in 1977 together with others, but none of these were "affordable" by any UK definition. Typically, Clive Sinclair had jumped in, in 1978, with his MK14 - not to be confused with the famous rifle of that name, or indeed the Milton Keynes postcode.
At a very affordable £39.95, the MK14 set a radical new price point — but only at the nerdiest end of the market. The design was a rush job: with no particular enthusiasm for computers at that point, Sinclair had simply hired a graduate called Steve Furber to put together a machine using the processor manufacturer's own proof-of-concept schematic.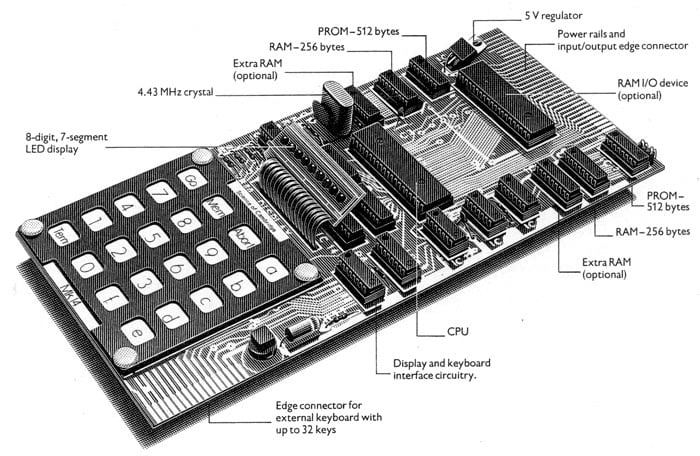 Reference board: Sinclair's 1978 MK14
Furber was studying for a PhD in aerodynamics at the time, but was handy with a soldering iron and had developed a keen interest in microprocessors.
Not invented here
The Acorn System One was a different proposition. Everything was designed from the ground up. As Wilson said later: "I'm used to working at a level where absolutely everything has to be done; there are no building blocks that we get from other people."
Logic circuits, assemblers, disassemblers, editors, and on top of all that the Basic interpreters for the operating system - all of these were built in house, from scratch.
The MK14 and its technically superior and more expensive rival, the Acorn System One, were surprisingly successful. Successful enough to make Sinclair change his mind and concentrate on producing a new microcomputer: 1980's ZX80, which was to lead the following year to the ZX81. Hauser was also encouraged, and set his team to work developing the successor to the Acorn System One, the Acorn Atom.
The Race for the BBC Micro
By mid-1981, Sinclair's ZX81 and the Acorn Atom were going head-to-head in the marketplace. At a fraction under £50 - £150 in today's money - the ZX81 was the popular choice, available in WHSmiths newsagents throughout the nation.
The more sophisticated Atom, costing £120 in kit form, had to be ordered directly from Acorn, but was the choice of the discerning user.
The company was also working on a successor to the Atom, to be called the Proton, when the BBC's TV series, The Computer Programme arrived to add more fuel to a market already fired by government subsidies for microcomputers in schools. Acorn and Sinclair weren't the sole competitors: there were by now between 20 and 30 different makes of microcomputers - all incompatible.
Sponsored: Minds Mastering Machines - Call for papers now open