Dell XPS 13 Ultrabook
Airs and graces
Limited resolution
As with so many other ultraportables, opening the XPS 13 isn't the easiest thing in the world to do as there are no aids like a decent lid overlap or the merest hint of somewhere to stick a fingernail.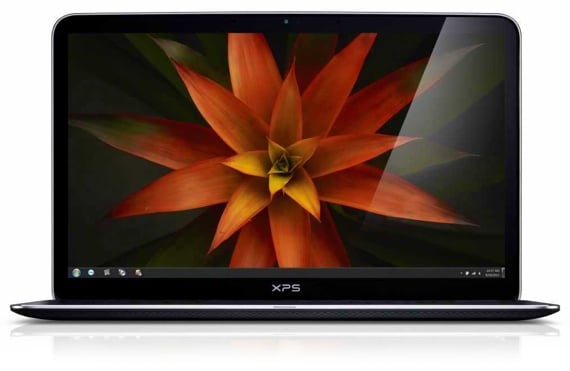 Nice screen, but it's glossy and the resolution is too small
And so to the screen, which is yet another 13.3in panel with a crap 1366 x 768 resolution. It's such a shame that Dell didn't go the extra mile and offer a higher res screen, especially with the price tag this top-end version carries. After all, Asus' 13.3in Zenbook UX31E comes with a 1600 x 900 resolution and the 13in equivalent from the firm with the fruit logo sports 1440 x 900 pixels.
The screen itself goes from edge to edge, is constructed from Gorilla Glass and has a high-gloss finish which may make the colours sharp and vibrant but it doesn't do it any favours in an office environment or outdoors because of harsh light reflections. It also takes a bit of adjusting to get the right viewing angle, but that seems to be a common complaint with Ultrabook screens.
PCMark 7 Benchmark Results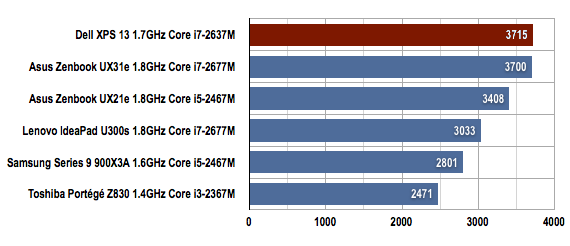 Longer bars are better
Given the small stature of the XPS 13, its trackpad is huge, measuring 100 x 64mm. It supports two-, three- and four-fingered gestures for scrolling, page up, page up and down, switching browser tabs, minimise and Alt-tab Windows switching. It's sensitive without being overly so. In any case, everything can be adjusted or disabled using the appropriate control panel.
The two mouse buttons are incorporated into the bottom of the trackpad which has been marked along the hinge line so you won't get confused as to which is the right- or the left-hand button.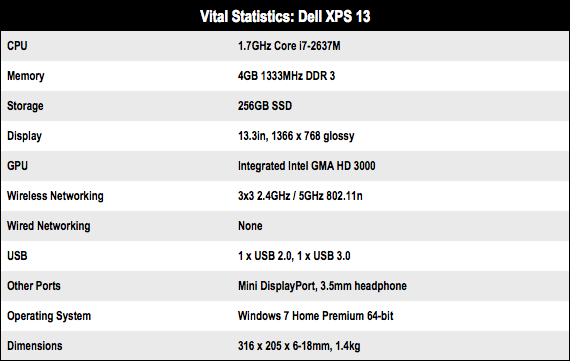 Sponsored: Go beyond APM with real-time IT operations analytics