Lenovo U300s Ultrabook
'Ang on, lads, I've got an IdeaPad
Taking charge
Lenovo claims the battery will last 8 hours between recharges, while the Powermark intensive battery life benchmark estimates this should be 4 hours. Realistically, unless you're a sit-down-and-work-non-stop kinda guy (or wasting your day watching cat videos on YouTube), I reckon you should get an easy 6 hours.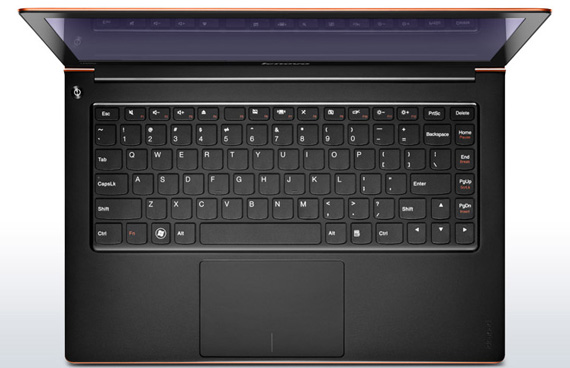 A water-resistant lining under the keyboard protects the computer from spills
One of Lenovo's claims is bang on, though: I plugged my fully depleted IdeaPad U300s into the mains and the battery was already 50 per cent charged within half an hour. A sneaky but effective recharge at Costa Coffee while enjoying a soya latte and shaking my head over a crumpled copy of the Daily Express has become a realistic proposition at last.
Before I go, let's round up the negative points.
First, I want to make it clear that the SRS Premium Surround Sound coming out of the built-in speakers is as tinny and shite as on any other portable computer. It's loud enough for a boardroom but it still sounds like it's coming out of a can.

Put the tape measure away – you can trust us on this.
Second, my test unit appeared to suffer from a minor manufacturing fault that prevented precision alignment between the display and the main body of the computer when closed. When turned on end, the closed IdeaPad U300s would gape open, the misalignment possibly weakening the strength of the magnetic closure system.
Third, the kind of results I saw in performance benchmark tests are not a great deal better than those I have achieved with certain Intel Core i3- and i5-based Ultrabooks. Asus's i5-based Zenbook UX21E, for example, actually performed better than the IdeaPad U300s, provides an additional VGA port and weighs less, yet costs just £850. Indeed, the benchmark results are baffling with some test cycles delivering figures below the 3000 mark and a boot from cold producing its best score.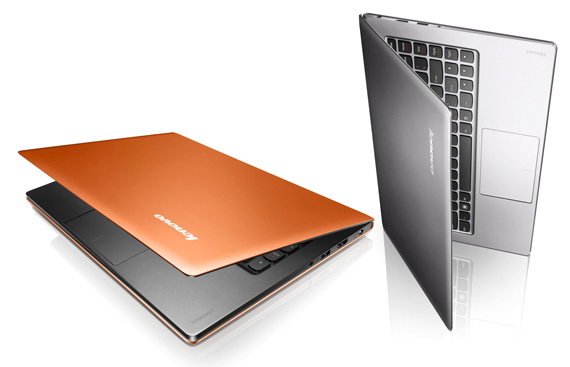 Lenovo's advertising makes a big show of a rather spanky orange edition... that is unavailable in the UK
Verdict
Once you've tried the IdeaPad U300s, you won't want to use any other computer... says one of Lenovo's Beijing-based engineers as part of the slick advertising for this smart Ultrabook. I don't happen to agree - well, I'd be nuts if I did because I'd be out of a job - but I can see why Lenovo is very proud of the U300s. It's a good computer that looks very stylish in an classy, understated manner, runs all day on a single battery charge and is pleasant to use.
My problem is that there are other extremely good alternatives already on the market, notably from Asus, Acer and hell yes Apple, and that's just the companies beginning with 'A'. There is more Ultrabook goodness to come this year, too, so I can't imagine the IdeaPad U300s holding its own for long. But even if it did, the price would have to drop significantly below £1,200 before it could be forcefully competitive. ®
More Notebook Reviews

Toshiba
Portégé
Z830-10N
Dell
Latitude
E6220
Asus
Zenbook
UX21E
Samsung
Series 7
Chronos 700Z5A
Acer
Aspire S3
Ultrabook

Lenovo U300s Ultrabook
Core i7 Ultrabook 13.3in Ultrabook from the ThinkPad folk.