Panasonic touts monster 8k by 4k 'flickerless' plasma
145in big enough for ya?
Panasonic has revealed it will produce a 145in plasma screen with a resolution of 7680 x 4320, the world's first 8k display not to require a backlight, apparently.
The Super Hi-Vision project - detailed on the Panasonic press site, but hidden behind a password to keep the great unwashed and bloggers out, and let real journos in - is a collaboration with Japanese broadcasting company NHK.
Panasonic was keen to stress that the pair have come up with new tech that inhibits the flickering plasma screens show when their resolution is increased this far.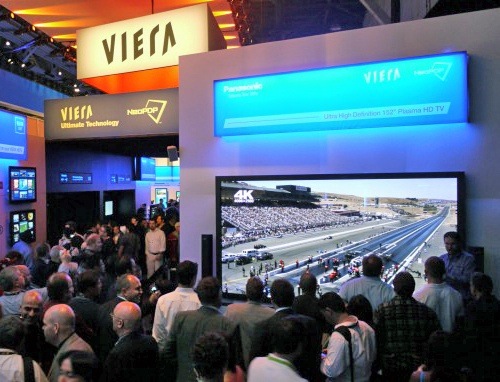 Panasonic's 152in PDP demo'd at CES in 2010
While images of the display have yet to materialise, the company is no stranger to supersize screens, launching a 152in 4k by 2k 3D plasma in 2010. ®
COMMENTS
Re: 9000000 inches....yawn
"Most truly great films also do not need to compensate by being big and flashy and loud. They are equally great at any scale."
It has nothing to do with being flashy and loud, it has to do with immersion and with seeing the film as the director intended.
How can you expect to be really involved in Citizen Kane if your view is 20% movie and 80% lamp, couch, painting on the wall, cat, floor with a bunch of crap on it, some wires, etc? How can you expect to see with a 20 degree FOV the detail the director intended you to see with a 60 degree FOV?
Then there's color quality and dynamic range - trust me, this makes a huge difference. If you've got some POS 32" TV, chances are that black and white movies are actually blue and purple and red and gray and purple and red and blue movies. Chances are that you can't see the two main characters' silhouettes lurking through the shadows because the silhouettes get rendered the same color as the shadows.
And you say you don't need 'loud' - well, what's loud? You need high quality, 'loud' audio to have the correct dynamic range between a door slamming and a whisper. You don't have to have Michael Bay style firefights to justify - to require - an excellent sound system with 90+db of dynamic range. The ability to hear a yelling match at the same quality and *understandability* as a passionate whisper is essential to those truly great films, and crappy hardware will *not* reproduce it effectively.
Now, you don't need to go out and spend $10,000 on a home theater, but you -do- need to acknowledge that, just as there's more to film than big explosions, there's more to high quality portrayal of film than big explosions.
Look at it this way: The great directors of our time did not spend tens of thousands of hours choosing their shots and angles so that you could see them in a postage stamp window. The best cinematographers did not learn the intricacies of bringing the right color and shade to the screen so you could fail to see half of it on some POS Westinghouse LCD with a 2:1 contrast ratio. The best audio engineers and musicians didn't hone their crafts and extract their every last bit of skill and ability so people could listen on a couple of two-inch TV speakers with the frequency range of an iPad.
For someone who's so self-righteous about quality film and crappy generic mainstream, you seem to know remarkably little about how film actually works. See some of those truly great films the way they were meant to be seen. You might end up wanting to see some of them again, too.
Re: At last!
Also known to some as a girlfriend/boyfriend ;)
You can taste and smell them, too. TV still can't do THAT sh*t can it.
At last!
Life size pr0n in your living room :)
.....wwwwoooooowwwwwwww...me want!
Re: Premature
How would you prefer they refer to Panasonic, then? 'COMPANY'? 'Above-mentioned commercial organization'? 'The Company Which Must Not Be Named'? 'Eddie'? 'Anonymous Coward'?
An 8k by 4k 140-odd-inch screen is interesting just for the sake of its existence. Even if it were on sale, few of us would be going out to get one, so why does it matter whether it's available this instant? And are you - or are most Reg readers - so suggestible that we're now going to reflexively go out and but some other above-mentioned commercial organization product without knowing why?