The shortest Google Drive review you'll read today
Known unknown error leaves Mac in neutral
Comment Google notified your humble Reg scribe that Google Drive for the Mac was ready. It installed and promptly crashed.
Here's the slow-motion replay: Download and unpack the software to to the Mac's applications folder, double-click on it, agree to the licence, and watch it automatically synchronise your files with your online Google Docs folder. Switch that off, and it crashes. Behold: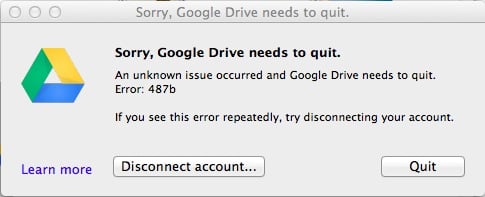 Google Drive's known unknown issue
An "unknown issue occurred", with an error code 487b, and Google Drive insisted on terminating itself. It can't be that unknown if it has a pretty precise error code.
Uninstalling Google Drive and trying again produces the same result.
This is shabby software. There is a post on a Google product forum about this, with a suggestion from a respondent that you "try creating an empty Google Drive folder and going through the setup wizard again".
Google Earth works pretty flawlessly on my Mac and that's a really big complicated piece of code. If Google wants me to try Google Drive then it needs to take the handbrake off and get out of first gear.
On the other hand, I guess it's my fault for wanting to know what the software was doing and putting a stop to it synchronising my files before I had a chance to put down my coffee. This cloud tech is supposed to be for my convenience, right? Not Google's. It should ask users what they want to sync, rather than dragoon everyone into bunging all their work into Google Docs, which I'm not a massive fan of. I prefer editing and creating files on my computer, safe from net connection glitches and bandwidth problems.
A colleague said: "I tried to install the app from Chrome. It just would not start the download. Not after many, many, clicks. Worked fine in Firefox though."
The Dropbox developers must be laughing themselves silly while Google's know-it-alls shoot themselves in the foot - again. ®
Sponsored: Minds Mastering Machines - Call for papers now open