HP spreads Superdome vPar partitions across Integrity line
Tweaks other virty tools for HP-UX Unix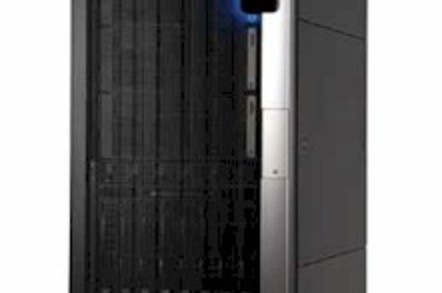 Hewlett-Packard has just rolled up an update to its venerable Unix platform that gives more virtualization options to more customers and better control over virtualization hypervisors and guests running on its Itanium-based Integrity and Superdome iron.
HP is on an odyssey – a a Project Odyssey in fact – to bring Xeon processors to the Superdome and Integrity designs and beefing up Linux and Windows to run on these boxes as a peer to HP-UX running on Itanium motors in the same boxes. But that doesn't mean HP is stopping investments in HP-UX.
The update to HP-UX 11i v3 is known as the March 2012 update; HP may use sub-release numbers to designate HP-UX 11i v3 updates, as it used to for many years, but if so, it does not publish them or talk about them that way anymore. The March update is shipping now and HP is starting to tell customers about it now, which is why El Reg is telling you about it now.
HP did a big update HP-UX back in September 2011, coinciding with the shipments of 32-socket, 128-core Superdome 2 servers based on the four-core "Tukwila" Itanium 9300 processors from Intel.
In addition to the new iron support, HP added a new kind of virtualization support, akin to Solaris containers and AIX workload partitions, called an HP-UX container, that is distinct from Integrity Virtual Machines (IVMs) and Virtual Partitions (vPars), and workload containers, all of which have slightly different approaches to carving up an Itanium box into baby virtual machines.
Integrity Virtual Machine are based on a hypervisor that can run multiple instances of HP-UX, Windows, or Linux on top of Itanium-based HP servers, while vPars are for HP-UX only, and specifically only on Superdome-class machines with cell board-style motherboards, and scale down to a single core and single PCI slot in terms of granularity. vPars can't share I/O resources, while IVMs can. IVMs also allow for a partition to have as little as a 1/20th of a core assigned to it for compute, while vPars can only skinny down to one core.
But IVM is a type 2 hypervisor that burns resources, and it also has fairly limited guest scalability in terms of core counts and virtual memory compared to vPars, which is a bare-metal hypervisor. vPars work on PA-RISC and Itanium boxes, too.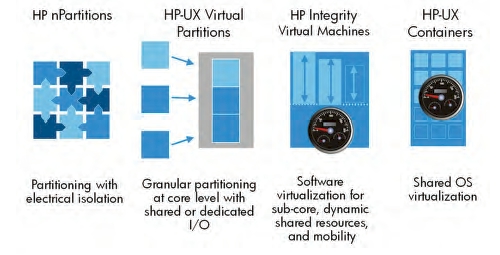 The spectrum of HP-UX virtualization
With the March 2012 update to HP-UX 11i v3, vPars are being extended down from the Superdome 2 machines, announced in April 2010, to the Integrity i2 blade servers and the rx2800 rack server that came out at the same time.
Interestingly, with vPar v6.1, shipping as part of the HP-UX update, vPars are now being given the ability to share I/O resources (something only the IVM hypervisor could do before) and can do offline migration of virtual machines between nPars hard partitions or distinct physical machines. Specifically, vPars are getting the shared Fibre Channel storage and Direct I/O networking features of the IVM hypervisor, and HP is also allowing for customers to convert between vPars and IVM formats. And there is now a single graphical user interface in HP-UX to manage both vPars and IVM guests and hypervisors.
HP has also jacked up the storage capacity of vPars partitions by a factor of seven and now a single vPars guest can have as many as 2,048 physical disk drives attached to it. This is being done expressly for customers running data warehousing and business intelligence workloads, says Kate O'Neill, marketing manager for Business Critical Systems, the division of HP's Enterprise Servers, Storage and Networking group that peddles HP-UX, NonStop, and OpenVMS machines.
The IVM 6.1 hypervisor is still important if you want to mix Linux, Windows, and HP-UX on a machine and still is the only hypervisor from HP that does live migration and sub-core slicing for partitions.
By the way, nPars, or HP's implementation of hardware physical partitions at the cell board level in Superdome-class machines, has now been ported down to the Integrity blade servers. Considering that these blades are built of one, two, or four distinct motherboards that are lashed together to create a single system image with two, four, or eight Itanium 9300 sockets, there is no practical reason why HP could not offer nPars on these boxes. Customers must not be asking for it.
All of the tweaks and changes to the HP-UX virtualization stack are free to customers who are on maintenance contracts and have the appropriate edition of HP-UX that includes virtualization. That would be the Virtual Server Environment Operating Environment (VSE-OE) and the Data Center Operating Environment (DC-OE) editions, to be precise.
In addition to the tweaks to the virtualization stack for HP-UX 11i v3 boxes, HP is now certifying the Sybase ASE 15.7 database from SAP and the Postgres Plus Advanced Server 9.1 database from EnterpriseDB for use with its Serviceguard high availability system clustering for HP-UX. Prior to this, only IBM's DB2 V9.X and Oracle's 10g and 11g databases were certified for use with Serviceguard clustering. HP's interest in other databases is obviously driven by the legal spat it is having with Oracle over the future of Intel's Itanium processor and therefore HP's Integrity and Superdome server lineup. ®
Sponsored: Minds Mastering Machines - Call for papers now open