Bendy, twisty keyboard wins Microsoft input tech competition
Designer devices
Microsoft last night announced the winner of a student design competition which saw two dozen scholars conceptualise ideas for future input devices.
The MA Industrial Design students from Central Saint Martin's College of Arts and Design, London had their work on show, with half of the group shortlisted by Microsoft and one winner taking away a grand for his efforts.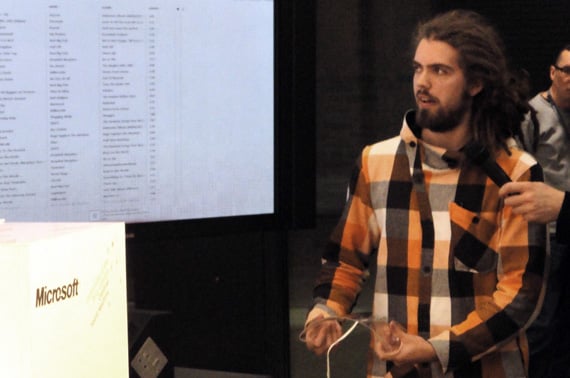 Winning student Victor Johansson shows off Keyflex
Victor Johansson, 24, took the top accolade with his Keyflex idea, an evolution of the standard keyboard which sees the user bend, squeeze and twist the device to control navigation on a display.
Microsoft decided Johansson's concept best showcased a possible future trend, which "addressed a clear consumer need".
If you say so.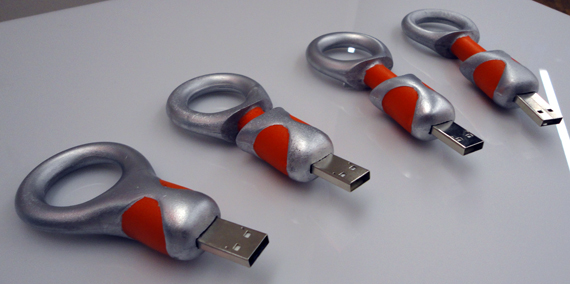 Syringe USB by Chun-Ling Wu
Other shortlisted projects include a USB key that injects and extracts data like a syringe and a document scanner that turns words into braille.
The latter includes a stretchable scanning belt making it compatible with books of all sizes.

Drag Fun Easy Reader by Caijun Yang
The room was brimming with other neat ideas such as a flexible camera concept which lets photographers manipulate a transparent film through gestures.
Squeeze to take a shot, slide apart to adjust the length of the photo, bend to zoom and so forth. Who needs buttons?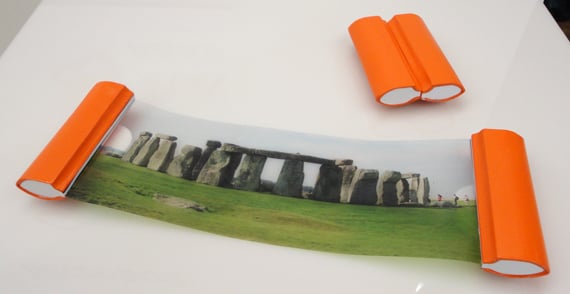 Bendy-Cam by Martyna Bielecka
Nearby sat some content-sharing social media dice and a pair of shell-like eggs designed to connect over t'internet and create an intimacy between users, reflecting moods and actions with delicate glows. How cute.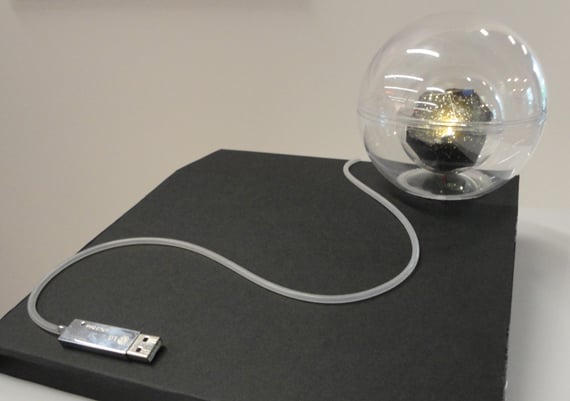 Ambient Games Capsule by Alexandra Sidorenko
Tucked away out of immediate sight was the Ambient Games Capsule, essentially a projector that beams images to reflect game content, putting the player in a more immersive environment.
There was also a digital version of Post-it notes, plenty of gesture controlled interfaces and a dual navigation mouse for teaching older generations how to use a computer - ah, Granny, when will you learn?
Digipost by Yuhan Wan
While the £1000 prize given to the winning student is unlikely to be enough to send his flexible keyboard idea into full production, it should certainly help him go on a bender to celebrate the win. ®
COMMENTS
Form over substance, as usual...
However, I hope that the "document scanner that turns words into braille" will be produced before those silly novelties...
I won't hold my breath.
(Boffin icon, or blind man icon, you decide.)
Re: Form over substance, as usual...
How is it form over substance exactly?
I think it is form over substance because none of this stuff actually works!
Whilst good design is important, without engineering that can make it work it's just an exercise in model making (here's a design for a hand-held directed energy weapon: http://images.wikia.com/memoryalpha/en/images/9/91/Type_2_phaser%2C_TOS.jpg)
?
I'm surprised Russell Brand had enough spare time to come up with a flexi-keyboard.
Strange clothing
That chap sure has some freaky clothing. I am more interested in the design of that collar and how the hell that works!
Re: Form over substance, as usual...@JDX
I'm still trying to figure that one out.. does the plug come out when the plunger is depressed? or is it a "one-touch" back up of a configured directory: pull the plunger for back-up, press for restore?