Phantom Slayer

The world's first first-person shooter? Could be... Phantom Slayer drops you into a windey 3D maze populated by the titular phantoms who'll kill you with a single touch. Fortunately, you have a blaster and two or three shots will take 'em out. The snag: you can't see them until they're in front of you. You carefully step through the maze, pounding heart ready to leap out when you suddenly hear - only when their near - the thud-thud-thud of their tread. Simple, scary and incredibly addictive.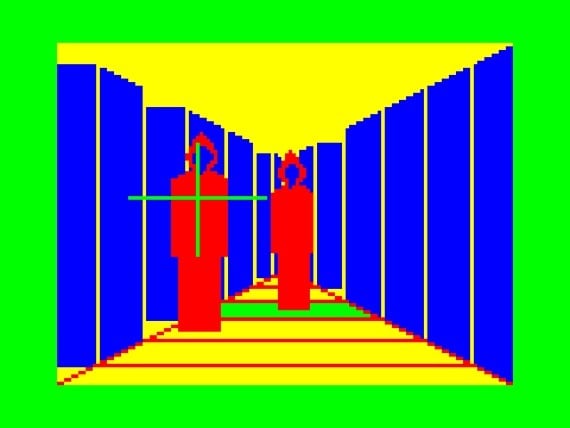 Tranz AM

"The year is 3472!" Coming across all 2D Mad Max, Tranz Am sees me race a souped-up Red Racer against the Deadly Black Turbos in good old apocalyptic USA - well, a yellow spotty screen - to collect and locate eight trophies. Starting in the center of the screen I try to avoid suicidal roadhogs as the landscape speedily scrolls past. I have to avoid the rocks and boulders of such ostentatious locations as El Paso while making sure to fill up at every available petrol pump as running out of gas is always a concern! A map of the US shows me fuel pumps and cities while a speedometer, fuel and temperature gauges let me feel slightly more in control of this death defying road trip. Who needs GTA?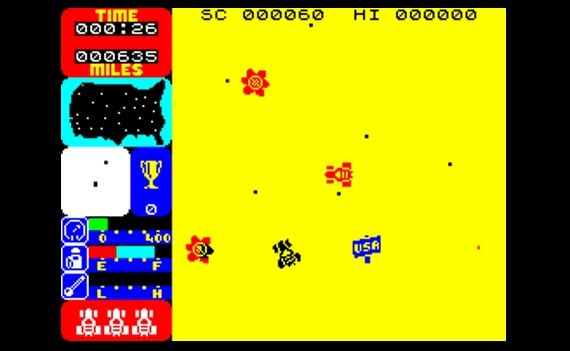 Ten... eight-bit classic games
COMMENTS
Jeff Minter
Strangely missing from the list unless I've overlooked something?...
Elite was incredible. I lost months of my childhood to that game. I still play the updated Oolite today.
Getting in on the titles-you-didn't-pick wagon...
Chaos? Xeno? Bruce Lee? Stop the Express? Nebulus? Driller? Exolon? Target: Renegade? Thrust? Splat? Turrican? Dan Dare? Wizball?
I'm confident those were all very good.
Let's not forget that before EA owned nearly all the sports franchises, we had a few sports classics.
Who can forget Daley Thompson's Decathlon? Those poor soft rubber keys on the Spectrum didn't stand a chance.
Re: Whatever.
Okay, we get the impression you're Californian. Most of the games in the article were for the Sinclair Spectrum, an English computer that played a role in our memory of the eighties. If you read between the lines in the article, you might spot a theme: Enjoyment despite lack of graphical prowess by means of imagination and charm. One title is even a pure text based adventure game.
At the same time, many of us would have still been losing skin by falling off BMXs- and have fond memories of doing so. Being told now that someone had a 125cc motocross bike at the time wouldn't dent those memories.