Knight Lore

Having just finished the Diablo III beta only to be left gagging for more, Knight Lore is a compelling 8-bit memory. This 3D isometric dungeon crawler sees me play Saberman, a "werewulf" looking to be released from my lupine curse by a kindly wizard Melkhior who dwells in Knight Lore castle. Navigating the castles rooms, I loved this game's cutesy RPG graphics. With only 40 days and nights to complete my task before becoming a werewulf forever, I speedily collect charms while trying to avoid being impaled on a spiked ball or spooked by a malevolent apparition. The intricately designed puzzles and levels make this game an 8-bit wonder and really set the standard for fantasy games to come.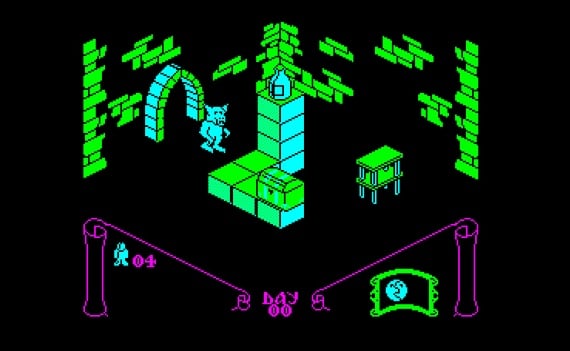 Manic Miner

Created by Matthew Smith and released by Bug-Byte Software, this suitably named jittery platformer is teeth-grindingly addictive because of its simplicity. Miner Willy has his hands full retrieving flashing objects from 20 technicolored caverns before his oxygen runs out, all the while avoiding vicious penguins, flapping toilets, evil performing seals and my all-time favorite floating head, Eugene. This game has real character even though created from the most basic animations. It was funny and frustrating. Precision timing is needed to avoid death by a misjudged millimetre! Manic Miner's ear bleedingly constant in-game music haunts my dreams like the squark of a data cassette loading hideously coloured levels of vexation.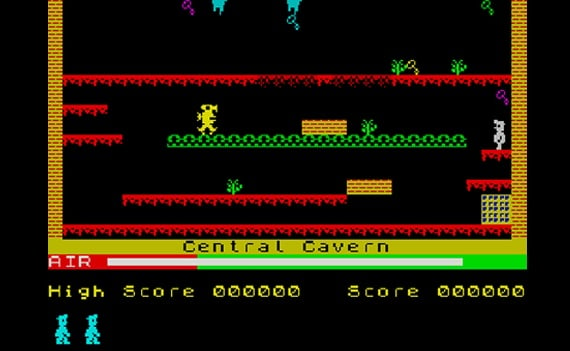 COMMENTS
Jeff Minter
Strangely missing from the list unless I've overlooked something?...
Elite was incredible. I lost months of my childhood to that game. I still play the updated Oolite today.
Getting in on the titles-you-didn't-pick wagon...
Chaos? Xeno? Bruce Lee? Stop the Express? Nebulus? Driller? Exolon? Target: Renegade? Thrust? Splat? Turrican? Dan Dare? Wizball?
I'm confident those were all very good.
Let's not forget that before EA owned nearly all the sports franchises, we had a few sports classics.
Who can forget Daley Thompson's Decathlon? Those poor soft rubber keys on the Spectrum didn't stand a chance.
Re: Whatever.
Okay, we get the impression you're Californian. Most of the games in the article were for the Sinclair Spectrum, an English computer that played a role in our memory of the eighties. If you read between the lines in the article, you might spot a theme: Enjoyment despite lack of graphical prowess by means of imagination and charm. One title is even a pure text based adventure game.
At the same time, many of us would have still been losing skin by falling off BMXs- and have fond memories of doing so. Being told now that someone had a 125cc motocross bike at the time wouldn't dent those memories.