UK retail wiz makes $61m by turning up at Apple
Ex-DSGI boss gets ID card, car space, pile-of-stock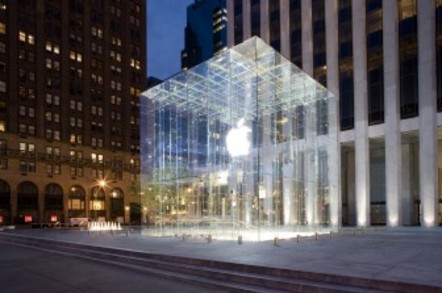 The former boss of UK retail chain Dixons found himself - almost - $61m richer on Friday as he sat down at his new desk at Apple.
Filings at the SEC show that John Browett took up his new role as senior vp for retail at Apple last Friday.
The filings were flagged up by MacRumours amongst others, and can be viewed at the SEC here.
They show that the erstwhile British High St operator is eligible for 100,000 restricted stock units, worth around $61m at current prices.
Of course, Browett won't get those all at once - he'll get 5,000 after six months, 150,000 after a year, and then a further 20,000 each year. Assuming he lasts the pace.
So he won't be able to go out and blow the lot all at once on something foolish, like buying a substantial chunk of his previous employer, for example, or 30 million slices of millionaire's shortbread.
This being Silicon Valley, it's always possible he might incur even more options, burdening him with the prospect of finding even more ways to spend his money.
In the meantime, he will presumably be concentrating on maintaining growth at the vendor's retail operation. In its earnings call yesterday, Apple revealed its stores averaged revenues of $12.2m versus $9.9 m a year ago, and the stores averaged 18.000 visitors a week.
Then again, Browett pulled the UK's ailing DSGI back from the brink - and turned it into somewhere you can almost bear going to. It's fair to say he's starting with much more promising material now. ®
Sponsored: Minds Mastering Machines - Call for papers now open