Look back in Ascii: Computing in the 1980s
When computing was truly personal
A Computer in your Pocket
In a way there's been nothing to touch it since. Unless, of course, you count the Microwriter Agenda
Right at the very end of the 1980s I got my first taste of what true portable computing could be. To my mind, a device can only really be classed as portable if it's small enough to be a no-brainer that you take it with you whenever you leave base.
Today's smartphones are like that, but in 1989 I got my hands on a (just about) shirt-pocket electronic writing tool, designed here in the UK, that was the first — and still today, only — machine I could confidently use for writing my column in the back of a bumpy taxi, or even (on one occasion) walking down The Strip in Las Vegas.
The secret of the Microwriter Agenda was a set of five keys, one for each finger and thumb, that in combination could generate any punctuation mark or letter of the alphabet. The characters would appear on a four-line LCD screen and be stored in its 32KB Flash memory for later transfer to a computer. Get adept at this "chord typing" and you could even write fluently without looking at the screen.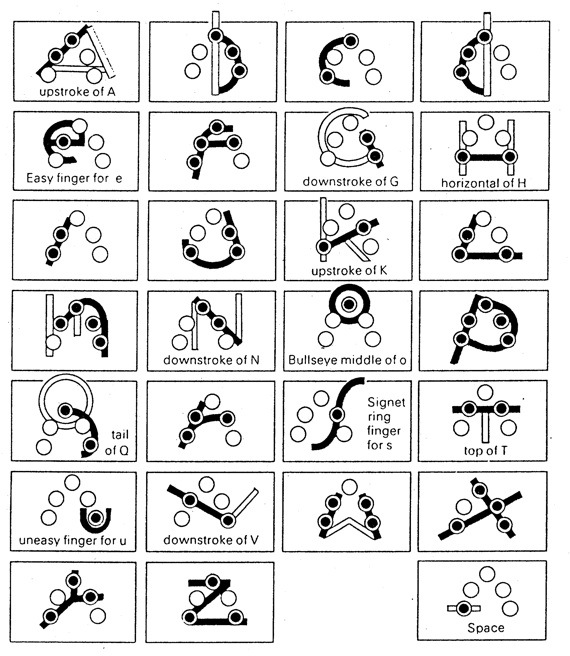 Chord dump: Microwriter's alphabet entry codes
Great Days
The 1980s was a great time for questing minds. In retrospect, I probably spent too much time questing and not enough on the TV scripts I'd got into computing to write.
I wasn't alone. The papers in those days were full of stories about small businesses going bust because their owners spent time learning to program their "micros", as they were generally known then, rather than taking care of business. The phenomenon even had a name: Computer Aided Bankruptcy.
In subsequent years, computers aimed to become simple enough for anyone to use, while actually becoming too complicated for anyone to understand. Computing in the 1980s had its perils, but the real fun was only just starting. At the close of the decade, Windows 3.0 was just around the corner… ®
Sponsored: Minds Mastering Machines - Call for papers now open