Asus: Ice Cream Sandwich Transformer Pad out in May
Dixons exclusive for tablet-cum-laptop
Asus UK has confirmed that the Transformer Pad TF300T - farewell, Eee branding… - will be out over here late next month, though not on widespread availability until the end of June.
The Android 4 Ice Cream Sandwich tablet will retail for £399, but that includes the machine's clip-on keyboard-cum-battery extender.
Asus said it is not offering the TF300T here without the keyboard bundle.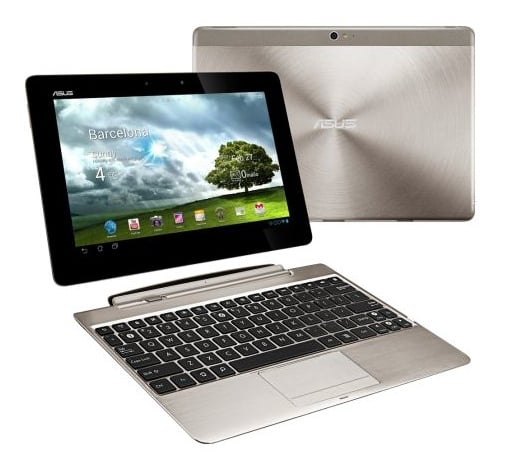 Key specs include a 1.2GHz Nvidia Tegra 3 chip, 1GB of Ram, 32GB of Flash storage, a 1280 x 800, 10.1in display, an 8Mp camera on the back, a 1.2Mp camera on the front and 2.4GHz 802.11n Wi-Fi.
Dixons stores Currys and PC World will get first dibs on the tablet, at the end of May. Other retailers won't be stocking it until late June. ®
COMMENTS
Re: ICS
If you wish to accuse me of being a liar you could at least have the balls not to hide behind anonymity.
I do own a TF101, and it self-rebooted last night, for your information. I have found it is more stable if you turn off the WiFi and close the lid before letting it sleep, and I also took off all the apps which asked for permission to stop the tablet from sleeping. I will welcome the patch when it comes!
But will it come with a pretty dongle and random restarts?
http://www.engadget.com/2012/04/22/asus-transformer-pad-tf300-review/
Let's hope not
This form factor would work for my wife
My wife has her own business, visiting people in their homes and doing assessments of various things. At the moment she uses her phone on visits to make brief notes and take pictures of things to include in a written report later. She tends to keep a netbook with her to then fill out the notes in more detail once she's back in the car between visits.
With something like the transformer she could just use the tablet when in the premises, for short notes and pictures... and tapping away on a tablet looks more professional somehow than doing it on your phone. Then, in the car, plug in the dock and flesh all the notes out. All with one device. Much better.
She's been talking about an iPad making things a bit easier for a while but would have gotten frustrated by the on screen keyboard for proper notes.
I think really the argument over form factor ended a long time ago. A lot of people want both a keyboard and a tablet. The transformer fills that gap. The question really is whether this particular model does a good enough job of the role its supposed to do. The answer seems to be yes.
Killer device
Asus just don't get the credit they deserve for championing this killer format of device.
Still very please with my TF101 after a year.
Who needs a tablet and a laptop when you can have both?!
Good update support too, so far.
Will get one.
I liked the first one very much when I got one for the wife, I'll get on of these when they arrive here.