Panasonic PT-AT5000E LCD projector
Fully loaded home Hollywood
Review Panasonic has notched up some memorable firsts when it comes to home cinema projection. Not only was it the first brand to introduce a native 16:9 widescreen model, it led the way with Full HD too.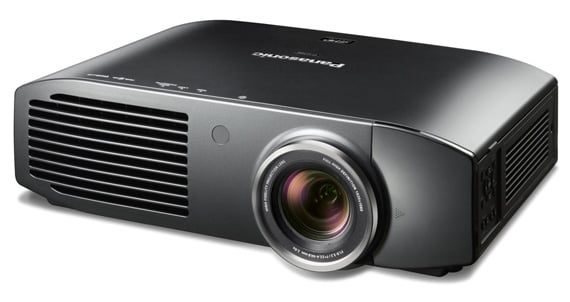 Putting on a display: Panasonic's PT-AT5000E
Its latest cineaste offering, the PT-AT5000E (known as the PT-AE7000E Stateside) doesn't mark any such milestones, but it is the company's first 3D compatible projector. It's also Panasonic's best home cinema projector to date.
Its outstanding performance is in no small part down to the high speed LCD panels used within. Driven at a dizzying 480Hz, their high refresh rate, combined with proprietary overdrive technology, delivers crisp, nuanced pictures and pretty much puts paid to lingering 3D crosstalk.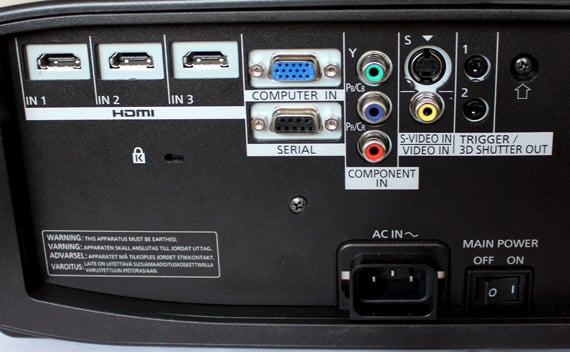 Alas, no DVI nor DisplayPort interfacing, but for home AV kit it has all the right connections
Beneath the lid is plenty of new technology. Picture processing is handled by a freshly-baked dual core IC, while the optical block is now capable of extreme dynamic contrast (quoted at 300,000:1) and 2,000 lumens of brightness.
This dazzling output serves 3D particularly well, as Panasonic's glasses are notoriously absorbent. Even filtered by aggressive active shuttering, images appear well balanced. Watching 3D on this projector is actually a brighter, more entertaining experience than donning goggles at the local multiplex.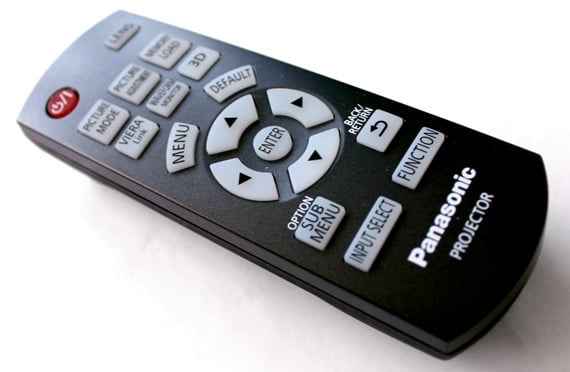 Backlit remote
Sure, you can find crosstalk if you look hard enough, but for real world viewing it delivers remarkably crisp 3D results. Avatar – still one of the best looking stereoscopic Blu-rays available – is CBeebies clean, and even difficult discs such as Monsters vs Aliens appear largely free of ghosting.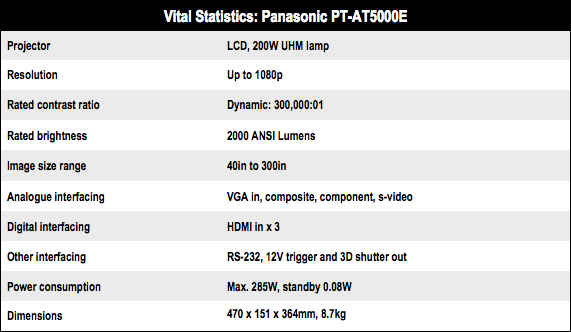 COMMENTS
Re: Serial port?
It's for control systems, like Crestron, AMX, Philips etc
- to control the projector, switch modes, and so on.
Re: Serial port?
Yes, but aren't they moving on to newer technologies? Everyone else is.
The office ceiling mounted projector isn't new enough have all the HDMI inputs, but it has USB and Ethernet ports along with serial for the legacy connections.
All this new one has is serial.
Most systems are doing away with serial connections. Rare to find a PC with one for example.
Re: > £3000???
£3000 is a high price, but one that I considered worthwhile. I have the earlier AT4000E which cost £2,500 retail a year or two back.
This gives me a device that creates a screen that is just shy of 3m diagonal in full HD, at a lower noise than any of its competitors when it was released. I can watch pretty much any movie I choose in the comfort of my own home, with cheap beer and snacks, on any format or source (DVD, Blu-ray or streaming from my media PC) in 7.2 sound (with my Onkyo AV amp). Allowing pausing of the show when the lady needs a comfort break, no concern or cost of baby-sitters and not least of all none of that crud that comes with sharing space with sweet wrapper scrunching, chattering hoi-polloi with big hats.
Last time we chose to visit a cinema, we shelled out over £50 for two, with snacks, fuel, parking... The picture and sound was worse, the chairs less comfortable, queues there, along with noisy f***ers.
I would recommend looking into it. How much would a 110" LCD or plasma cost?
That said, I would bother with 3D, it's sh**
Anyone seriously considering a premium projector is surely waiting for the Red 4k laser projector which should be released this year...
> £3000???
To watch a film at home?
I could go to the local cinema and experience 300 3D films for that amount. On a fucking HUGE screen.