IBM turns in profits bump despite server slump
New server bump due in H2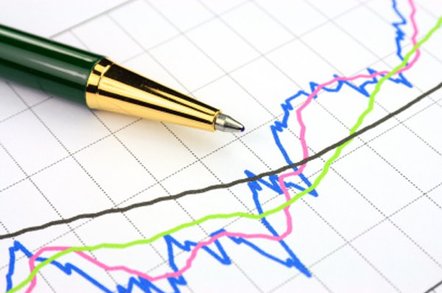 IT bellwhether IBM missed Wall Street's revenue projections for Q1 by a smidgen but beat expectations for bottom line growth.
Revenues were up a mere three-tenths of a point, to $24.67bn, and net income up 7.1 per cent, to just a tad over $3bn.
The quarter is a carbon copy, more or less, of the final quarter of 2011, with all the same issues affecting certain IBM product lines – mainframes were down, Power and x86 servers were flat, software had a nice bump, and the 40 emerging markets grew 10 per cent (as gauged in constant currency in their local markets) while the major markets were, as a group, flat at constant currency.
In a conference call with Wall Street analysts, chief financial officer Mark Loughridge said that because of the tough compares in the first quarter of 2011, when mainframe sales were up 40 per cent, the company expected for its System z machines to swoon a bit, and they did, with sales down 20 per cent and aggregate compute capacity, as measured in MIPS, down 5 per cent.
Loughridge said that in-box mainframe upgrades, where customers activate latent engines on installed machines, as well as specialty processor engine sales, which are used to accelerate Java, DB2, and XML workloads or to run Linux, were the big revenue generators on IBM's big iron in this year's first quarter. And, because it is not particularly expensive to turn on this latent capacity, the profitability of the System z business was up compared to a year ago.
Loughridge said that despite the fact that its Power Systems machines had flat revenues for the year, IBM believes that it continued to take market share in the Unix server racket. He added that IBM did 250 competitive replacements involving Power Systems, and that these accounted for around $200m in revenues – down a bit from the average of $1m a deal IBM has held for a number of years. IBM believes that it held share in the x86 server business with its System x and BladeCenter lines, despite flat revenues, and took a hit on storage hardware sales, which dropped 4 per cent. Storage software revenues, however, were up 18 per cent, reflecting a move away from hardware and towards software that has decimated revenues in the systems business over the past two decades.
Add in retail store systems – a business that IBM has just sold to Toshiba for $850m and OEM chip sales to game console and other electronics makers, and the Systems and Technology Group posted revenues of $3.75bn, down 6.7 per cent. Total server revenues hit $2.44bn, if you do the math on data supplied in IBM's financial presentation (PDF), while storage hardware accounted for $712m.
The Software Group, which was merged with Systems and Technology Group in July 2010 but which is still reported as a separate unit, had $5.6bn in revenues in Q1, up 5.5 per cent and with a gross profit margin that held rock steady at 87 per cent. Loughridge said that IBM's WebSphere borg cube of application server, commerce, and related widgetry grew 16 per cent in the quarter. Information management tools, which means databases, analytics, and related stuff, grew 5 per cent, and so did sales of Tivoli systems management and security wares. Rational application development tools saw a modest 1 per cent wiggle toward the sky, and even the Lotus groupware and collaboration tools held their ground with flat sales. These key five product lines in Software Group accounted for $3.47bn in revenues, while operating systems brought in around $616m and other middleware (mostly for mainframes) accounted for just over $1bn.
IBM's Global Services goliath had a mere seven-tenths of a point of growth in the quarter, to $14.67bn, and has been hitting the upper limits of growth for some time. IBM's services backlog went down 2 per cent in the quarter, to $139bn, and has some on Wall Street a little nervous about whether IBM can grow this business again. What Wall Street may not have figured out is that IBM can grow it reasonably fast if it pushes SmartCloud public cloud services aggressively, but this may eat into IBM's server, storage, and other integration services businesses.
Global Business Services, which peddles application outsourcing, consulting, and systems integration, and which accounted for $4.64bn in revenues in Q1, shrank by 1.5 per cent.
Global Technology Services, which does hardware outsourcing, product maintenance, and other things lumped under an "integrated technology services" moniker (and which is distinct in some way from "systems integration"), accounted for a tad over $10bn in sales in the first quarter, up 1.7 per cent from the year-ago period. GTS had 14 per cent growth in those 40 growth markets at constant currency, and GBS was not far behind with "double digit" growth, according to Loughridge. Many of IBM's business analytics and Smarter Planet engagements are driven by the GBS unit. Loughridge said that GBS couldn't close two deals in Japan and therefore missed out on bringing $60m to the GBS bottom line in Q1.
Considering the softness in government spending around the world and issues that IBM is having in Japan, Loughridge said IBM was pleased with the results it booked in Q1. Sales in the Americas region were up 1 per cent as reported to $10.5bn, with EMEA down 2 per cent to $7.6bn and Asia/Pacific up 4 per cent to $6.1bn. Sales in the United States were flat, and in Japan fell by 7 per cent. At constant currency, sales in Europe were up 1 per cent, Loughridge said, with the United Kingdom shooting up by 10 per cent – the tenth consecutive quarter of growth for IBM UK. IBM's sales in Spain and Germany were up, and sales in France and Italy declined. Brazil, Russia, India, and China as a group had a combined 10 per cent revenue growth (11 per cent at constant currency).
IBM exited the quarter with $12.3bn in cash after generating $1.9bn in free cash flow in the quarter, spending $1.3bn on five acquisitions, and $3bn on share buybacks, and $900m on dividends. IBM expects to book a gain of $450m to $550m on the sale of the RSS unit to Toshiba, which it will use in part to cover "workload rebalancing," an IBM euphemism for layoffs and ones that are expected to primarily affect employees in Europe.
IBM is expected to launch new servers – probably new Power7+ servers and System mainframes – in the second half of the year and will see a bounce in sales for hardware; the new PureSystems cloudy machines launched last week are also expected to kick in some contribution to revenues and profits in the second half of the year, too.
The 2012 year is looking so rosy, except for those about to get the sack, that IBM told Wall Street it was raising its guidance for the full year for operating earnings per share by 15 cents to $15. ®
Sponsored: Minds Mastering Machines - Call for papers now open