VMware buys up benchmarketeer tools
Helping you to help us help ourselves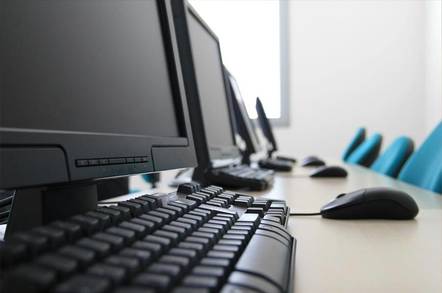 Server virtualization juggernaut VMware doesn't just want to own the lion's share of the cloudy infrastructure inside data centers. It wants to convince all data centers to virtualize all workloads, and use the best virtualization tools available to do so. But to do that, the company has to prove that real-world workloads in your shop can be virtualized and not adversely impact performance, and so VMware has snapped up "certain assets" of a small company called InfoTech Health Check – a provider of online benchmarking tools – for an undisclosed sum.
InfoTech is based in Lynchburg, Virginia and launched its Health Check benchmarking service in June 2006. It is a self-service benchmarking platform to measure the effectiveness of midrange, mainframe, and distributed platforms; help desk operations; wide area, wireline, and wireless networks; application development and support; and end user satisfaction.
In conjunction with the acquisition, VMware is announcing a benchmarking service called Accelerate Advisory Services, a division of the company comprised of former CIOs, CTOs, and industry consultants that will use the InfoTech tools and others to help the CEOs, CFOs, and CIOs in the boardroom develop metrics for measuring their progress as they move from the physical to the virtual world in the data center.
In a statement, VMware says that it will be mashing up its virtualization benchmark data for servers and virtualized PCs with "best-in-class IT transformation performance indicators" to help CEOs and CFOs gauge their progress as they start virtualizing their workloads, build cloudy infrastructure, and better support the agility and processing needs of business units.
By acquiring those InfoTech assets, VMware is adding the 3,500 different metrics that the Health Check tool tracks, as well as data from and the 20 industries in which it has gathered up "best practice" information to act as a baseline for your IT department's efforts. InfoTech also had data from four different geographies, so now the Accelerate Advisory Service has an international flair, too.
The virtualization benchmarking services VMware is announcing have a decidedly Global 2000 feel, and are based on hundreds of engagements VMware and its partners have been involved with as companies moved from physical servers to virtual machines to private clouds. Like most services, it is based on the premise that you can learn from the experience of others – provided you have to money to pay for that knowledge.
There are a number of different parts to the Accelerate Advisory Services. First, of course, is the benchmarking service, and this is not just about trying to figure out how many virtual machines running your particular workloads can be crammed onto a collection of physical machines. Before you get to that, VMware will help you figure where you are compared to your industry and geographical peers on the rainbow highway to the clouds, and where you will be in the near term compared to your peers based on your current plans.
The next service is to figure out how ready you are to move to virtualization and then onto clouds, and this is all about looking at your IT shop, your end users, your apps, and your budget to see how ready you are to make your cloudy moves. This "transformation readiness" service includes financial modeling to look at return on investments for your "journey to the cloud" – in terms of both hard and soft costs; reckoning your operational agility and readiness; and modeling how your firm will have to change its IT gear and processes to move from physical to cloudy computing. You can also get an advisor who will either be a resident at your site or will be put on call to help keep you on track once you plot a course to the clouds.
The IT strategy service is the third portion of the Accelerate Advisory Services package, and with this, VMware consultants cook up plans and roadmaps to get infrastructure, platform, and virty desktop clouds in your company as well as migrate non-x86 workloads to x86-based clouds and hardening the security on the whole enchilada.
The Accelerate Advisory Services are available immediately in the United States, Canada, the United Kingdom, France, Germany, Australia, Japan, China, and across Southeast Asia. VMware says the services will be available more broadly in Europe and Asia sometime in the second half of 2012.
No word, of course, on what any of these services cost, as is traditional in the services racket. ®
Sponsored: Learn how to transform your data into a strategic asset for your business by using the cloud to accelerate innovation with NetApp