UK server-makers weather Q4 sales droop
HDD shortages, poor demand and delayed purchases blamed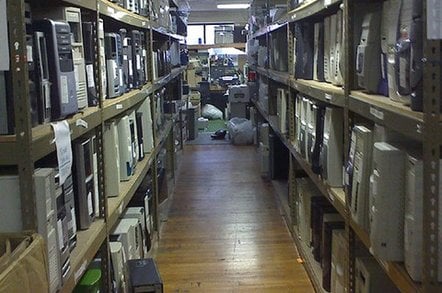 UK server sales hit the skids in Q4 due to HDD shortages, weak customer demand and delayed purchases as buyers waited for next-gen Intel architectures to launch.
According to abacus-stroker IDC, some 82,000 servers were shipped in the period – representing a drop of 2 per cent – and market revenues fell to $609m, a 1 per cent dip on the year-ago period.
Nathaniel Martinez, programme director for European server research at IDC, set aside the public sector as being "particularly weak" as the UK government wrestles with its debt issue.
He added that SMEs were "still in the doldrums" but there were pockets of growth in certain corporate verticals including oil and gas and finance.
The market was also liked a coiled spring: "There is a lot of pent-up demand for next generation Intel CPUs and some users held back purchases," he told The Reg.
Martinez said some high-end x86 SKUs were impacted by HDD shortages following the flooding in Thailand
By CPU type, EPIC and RISC-based systems were hit hardest in the quarter while systems running on the Unix OS tanked.
"The Unix market has started to disappear," said Martinez.
EPIC server shipments fell 40 per cent and revenues dropped 25 per cent as RISC unit sales fell 43 per cent and revenues dipped 8 per cent, IDC numbers show.
On the Unix front, server unit sales went down by almost a third and revenues fell 22 per cent.
"Regarding the future of Unix and RISC and EPIC, those platforms will become niche and mainly used to high-end database as continued innovation on x86 both on the software and OS side close the RAS performance gap with proprietary systems," the IDC man said.
Resellers reckon that Unix is coming under renewed pressure from x86 with more and more customers migrating to industry standard systems.
"The argument will ultimately come down to cost," said one channel source. "The reason for going to Unix was resilience but we are seeing more robustness on x86 which is a more flexible architecture," said one.
There still seems to be a major play in the market for mainframes – the ultimate resilience – but Unix will be squeezed in the middle, dealers argued.
IDC data shows CISC shipments climbed 27 per cent and the market value of those systems grew 14 per cent. Ux86 unit sales fell 1 per cent but revenues increased by the same amount.
Out of the major operating systems, only z/OS represented substantial growth, up 27 per cent in unit terms and 14 per cent in value.
Market leader HP declined 9 per cent in terms of customer revenues and Oracle fell 2 per cent. IBM and Dell climbed 3 per cent and 13 per cent respectively. Cisco – which has a very small server segment – was up 267 per cent.
Martinez said some high-end x86 SKUs were impacted by HDD shortages following the flooding in Thailand. ®
Sponsored: Minds Mastering Machines - Call for papers now open