Samsung S III to enter Galaxy next month
Prepare for take off
Samsung's next flagship smartphone, the Galaxy S III, appears set for launch early next month, with the company now inviting folk to "come meet the next Galaxy" at a London event on 3 May.
OK, so Sammy's official blog doesn't detail which new addition to the Galaxy family will be on show, but the S III has been seemingly on the verge of being launched for the past three months now. And with a event streamed live on the firm's Facebook page, it seems likely the next-gen Android blower will have its day.
Coincidentally, on 5/3/2012 no less. Well, more like 3/5/2012 on this side of the pond.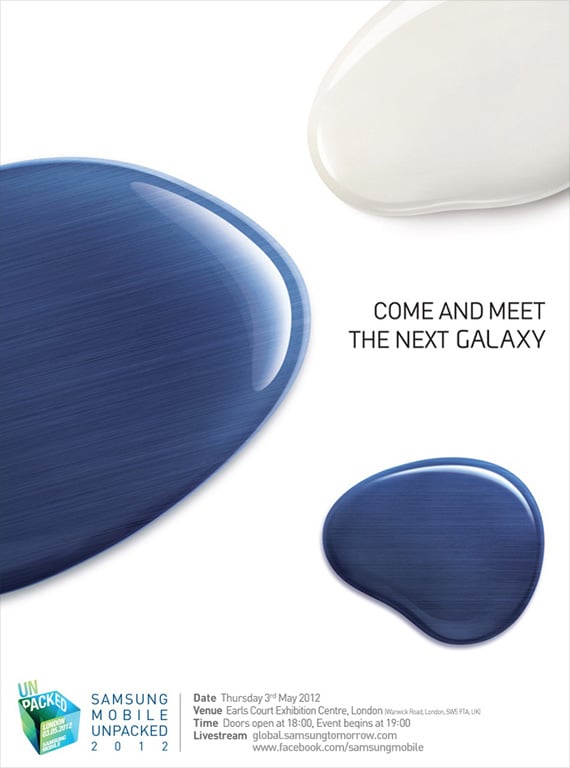 Either way, less than three weeks to go and Samsung's next cosmic girl - rumoured to pack an Nvidia Tegra 3 processor, HD display and a 12Mp camera - shall finally be revealed.
We'll keep you posted. ®
COMMENTS
This side of the pond?
As far as I am aware only the USAsians use MDY as the date format...oh sorry, and Belize (according to wikipedia)
Most folk are sensible and use either DMY or ISO 8601 (YMD) -- nicely heirarchical.
Just as a btw, I comemmorate 9/11 as the day the Berlin Wall fell.
if it bends
I may wet myself a little bit.
If it doesn't, I'll probably still get it. HTC have lost their crown to sammy.
Re: Bonza!
Yup, me too. I've been entitled to upgrade since Xmas, but waited for the S3. In the meantime the missus has got an S2 (her choice, no pressure from me, she absolutely loves it) and my son's gone for a Note, which is bloody gorgeous but just that bit too big for me. Rumoured size of the S3 is about as big as I'd go for a 'phone. What I really want is the extra screen res over the S2
Bonza!
I have been putting off my upgrade for this..... It had better be the SGS3 or Samsung will forever be off my Christmas Card list....
The more ridiculously sized the better!