3. The ports are too close to each other
A lack of device communication ports, notably USB, is a sacrifice that I am prepared to accept in a laptop. Crushing them so close together that you can only use one at a time is not. Have laptop manufacturers never seen a USB memory stick or a 3G dongle?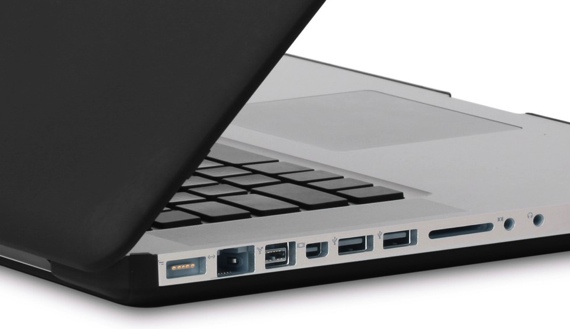 A laptop port array designed by... someone who doesn't use ports, perhaps?
And why does the power cable plug always have to jut out by two inches? Sitting on my desk, charging up, a laptop often takes up a greater footprint than my desktop computer.
4. Not enough storage space
My desktop computer has 1.5TB of internal hard disk space, which is great when you work in multiple operating systems. Laptops, out of necessity, have diddy little hard disks that struggle to contain my cat videos, let alone any proper work.
The easy answer is to plug in an external hard disk... assuming I'm not already using the adjacent USB port. As already mentioned, two ports are separated by a distance of approximately half a micron, so I can't use both at the same time.
5. The display viewing angle is acute
Tilt your laptop screen back or forward, and the image contrast turns inside out. The display on my desktop computer doesn't do it, however. There are technical reasons for this. Knowing what these technical reasons are does not make me like display images that turn inside out.
6. Trackpads are rubbish
Click-dragging and dropping with a trackpad is a nightmare. It's like playing Finger Twister.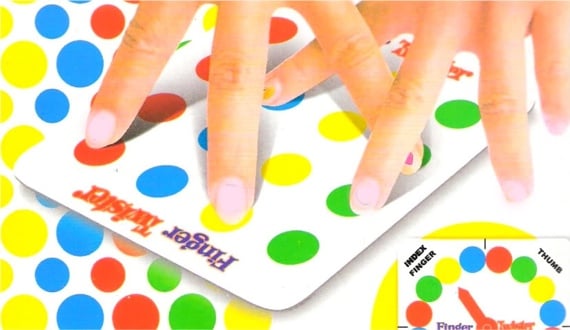 Apple patents magical, revolutionary keyboard
That said, the latest generation of multi-touch, multi-gesture trackpads are pretty good. So forget about reason six.
7. Battery life is pants
Call me slow, call me lazy, call me Shirley, but the battery on a laptop always dies melodramatically five minutes before I have finished something.
That said, laptop battery life has improved a lot recently, so forget about reason seven as well.
Actually, now I think about it, notebook and Ultrabook battery life is pretty darn good. And the screens are bigger, with denser pixel resolutions. Oh, modern keyboards are OK really, and port layout seems much more sensible these days. Actually, I rather like all the portable computers I've seen over the last six months. Hmm, this list isn't working out how I intended.
8. Ignore the previous seven points in this list
My complaints about portable computers clearly hark back to the days when they really were crap, heightened by the sure knowledge that there is an unrelenting shift of manufacturer emphasis from lard-arsed desktop behemoths to nimble mobile devices. Ultimately, we're all being moved to laptops whether we like them or not, but I no longer feel aggrieved because I do actually like the new wave of notebooks and especially Ultrabooks.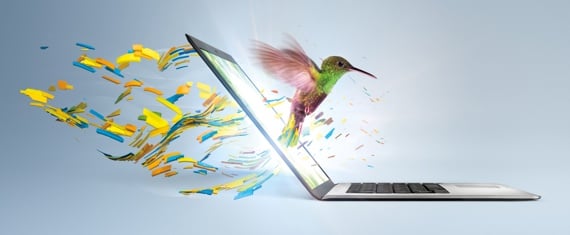 Actually, I rather like Ultrabooks. Those without screen mounted hummingbirds, natch
What I really want is a laptop that weighs nothing, incorporates a cinematic display, provides a five-octave keyboard and fits into my back pocket.
Is that too much to ask? ®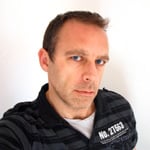 Alistair Dabbs is a freelance technology tart, juggling IT journalism, editorial training and digital publishing. Like many of his generation – Alistair is a 1960s child – his love for hand-held devices was inspired by Star Trek communicators and those seemingly impossible flat TVs in Stanley Kubrick's 2001: A Space Odyssey.
COMMENTS
Please! Spare us the mobile device willy-waggling!
Yeah mildly entertaining article that is occasionally original. But...
"My laptop is so fab it's better than your telly and has a hard drive so big that I backup the internet...yadda yadda yadda... *snore* ...and it's even colour-cordinated with my iPhad and has a dock for my iDrone and a slot for my coke spoon and..." Oh fuck off and die already.
My laptop comes in a large metal box with screen attached by a flexible cable rather than outdated fragile hinges, contains standard components that are fast, quiet, reliable, cheap to replace if they go wrong using a single standard screwdriver, it connects to a multiplicity of peripherals (full-size spill-proof keyboard, mouse, etc.) connected via standard interfaces without need of hubs or expansion cards. Oh and it has the unique property that I cannot take it to the sofa/pub/party/anywhere else and thus fails to annoy my friends/family by intruding on the time I spend with them.
I should add the my use-case is defined by the fact that I am not so important that the entire population of the internet has to be able to contact me 24/7/365 via Twatter, Farcebook et al so clearly my laptop would be no good for individuals less insignificant than me.
Bloody 16:9 screens GRRRR!
I blame everything, well almost everything, on the perverse idea that laptops should have screens designed to play movies.
My trusty old laptop is a ThinkPad R52 with 1400x1050, yes, 4:3, and guess what, it's great. It might be old, slow, and the battery last approx 20 minutes, *but* it's not the size of an aircraft carrier flight deck so is easy to carry from one plug point to the next! I don't need battery life, I need portability. I would by a new replacement, but I don't want to have to purchase a wide load screen just to get a similar vertical resolution to what I've already got. So I'm contemplating a motherboard hack to install a sata SSD instead.
Even on a desktop machine I'm not sure about 16:9. I'm sitting typing this on a 27" 2560x1440, and I seem to have far more slack space on each side then I do top and bottom.
What bugs the crap out of me
Back around 2003 (ish) I got a Dell UltraBook (wasn't called that at the time, but that was what it was). It had a 1920x1200 screen. This was better than a lot of standard monitors at the time (the standard desktop monitor at work was 1600x1200). Since I did a lot of coding on the laptop, having the vertical screen resolution so I could see lots of lines of code was crucial. Last year, I was looking for a new laptop, and i found nothing with a 1200 vertical screen resolution. Everything had gone 1080 (or less). At the same time, my home setup is a 2560x1600 screen and a 1600x1200 in portrait next to it. I find it unbelievable that in 8 years desktops have improved massively, but laptops have gone backwards. For this reason alone, I always thing that people who claim that desktops are dead are spouting rubbish.
@ Mikeyboosh
Giveaway - solid metal case, plus rose-tinted view of perfect laptop.
It's a Macbook Pro.
My laptop has a 17" widescreen display, stupidly-high resolution (I'd get 60 rows of a spreadsheet on a screen no problems at all, and that's in LibreOffice with what looks like huge 20-point rows), a built-in numpad, no crammed ports, whatever storage space I want for it (originally 500Gb but that was a while ago), wonderful display angles (hell, I've had four people sitting on a sofa watching it), stupidly loud (and clear) sound for a laptop, a decent trackpad (about the only thing I've had paid extra for would have been a trackpoint, but to be honest - the wrist-area is so damn huge I can use a mouse on it! Touchscreens are a gimmick that I wouldn't pay a lot for but would only use occasionally even if they were free), and decent battery life. Not only that, it plays every game I've thrown at it (admittedly I haven't tried the very-latest titles, but it laughs at anything you tend to buy on Steam), has a really solid build (aluminium casing), and all the ports I could ever want.
Just because you buy cheap laptops that don't fulfill your need, doesn't mean they don't exist in perfectly ordinary retail channels (I actually have two of this laptop - one bought via Novatech, one from Amazon). All the things you mention cost extra to have, so you have to pay extra and not expect some cheapy £300 thing from Currys to have them all.