Laptop computers are crap
Time to flush them away
Something for the Weekend, Sir? Occasionally, the crumbs scavenged by the Dabbs clan are supplemented with purchases from a local food emporium, the expenditure being partly funded by product reviews that I submit to El Reg.
El Reg, by the way, is a real person in a kind of virtual concept common to all omnipresent beings. The last time I was granted an audience, he/she/it/they was having his/her/its/their long white wise beard™ serviced.
"Minion," he addressed me, using my casual moniker to demonstrate intimacy, and slightly raising his venerable chin to provide better access for the team of British Gas engineers on the scaffolding below, "try not to lose favour by upsetting advertisers unnecessarily."
Staring deep into his face to determine his mood - which is no easy thing when you are prostrate on the bottom step in the throne room - I naturally sought clarification of this ambiguous instruction.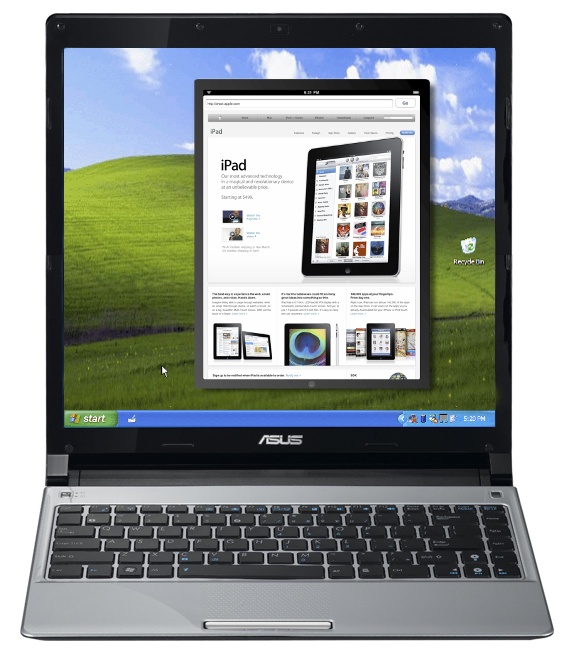 Mr Dabbs' ideal laptop screen?
"Does my lord mean that I should not upset advertisers in order to not lose favour, or that I should upset the advertisers in order not to lose favour?"
Unfortunately, I never heard the wise one's response as it was drowned out by the clanking of my chains as I was pulled - rather harshly, in my opinion - back to the anteroom, ritually roughed up in the traditional manner and deposited outside on the pavement next to one of the several ornamental cement mixers still adorning London's Leicester Square.
None the wiser, and at the risk of doing "a Ratner", I would like to tell you why I think laptop computers are crap.
1. The screen isn't big enough for real work
To be fair, laptops, just like smartphones and tablets, are great for accessing online information, playing games, watching BBC iPlayer, checking Facebook and so on. In other words, they are perfect for consuming digital content. They are not so good for creating content. Last week, I mentioned that I sometimes work on iPad app-based magazines, and let me tell you how frustrating it is to be unable to preview - let alone design - a portrait page on a laptop at actual size. To be able to do this, I'd need a vertical resolution of 1024 plus another 60-or-so pixels to accommodate the software's title bar, etc.
I look around me and I see IT colleagues hunched over piddly little laptop displays, trying to make sense of massive spreadsheets, long documentation or endless database reports 15 lines at a time. They open PDFs and have the choice of viewing it one quarter of a page at a time legibly or one page at a time illegibly.
Surely the answer is to plug in an external monitor. I agree, and this simply confirms my opinion that laptop displays are too small.
Back at home, I enjoy a user-friendly 2560 x 1440 pixels on my desktop computer, extended by another 1600 x 1200 pixels on a second display. I am considering attaching a third display. Anything less is unworkable.
Personally, I blame Adam Osborne for basing the world's first portable computer on the world's smallest oscillscope. But then he was an IT journalist and, as you know, such men are not to be trusted.
2. There's no numeric keypad
I happen to like extended keyboards and I use the numeric keypad all the time. Well, not all the time, obviously, because that would mean I'd only be typing numbers, but you know what I mean.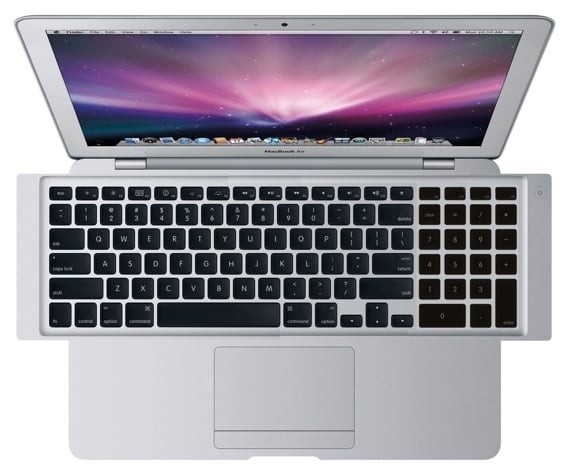 Something like this, sir?
I also use the big, friendly PgUp and PgDn keys, and Home and End. Lots of my programs use these in combination with modifiers to do additional things, but these become tricky or unavailable on a laptop because I already have to use the Fn key modifier in order to get the basic paging function to work in the first place.
One combination, as applied on a laptop, would involve holding down four keys and pressing a fifth. This is the computer equivalent of a Masonic handshake. It's a good job I took cello lessons as a child otherwise I'd have broken my fingers by now.
Oh, and wireless keyboards are just as bad, for the same reason. Hooray, I can type without cables! Hooray, half my keys are missing!
COMMENTS
Please! Spare us the mobile device willy-waggling!
Yeah mildly entertaining article that is occasionally original. But...
"My laptop is so fab it's better than your telly and has a hard drive so big that I backup the internet...yadda yadda yadda... *snore* ...and it's even colour-cordinated with my iPhad and has a dock for my iDrone and a slot for my coke spoon and..." Oh fuck off and die already.
My laptop comes in a large metal box with screen attached by a flexible cable rather than outdated fragile hinges, contains standard components that are fast, quiet, reliable, cheap to replace if they go wrong using a single standard screwdriver, it connects to a multiplicity of peripherals (full-size spill-proof keyboard, mouse, etc.) connected via standard interfaces without need of hubs or expansion cards. Oh and it has the unique property that I cannot take it to the sofa/pub/party/anywhere else and thus fails to annoy my friends/family by intruding on the time I spend with them.
I should add the my use-case is defined by the fact that I am not so important that the entire population of the internet has to be able to contact me 24/7/365 via Twatter, Farcebook et al so clearly my laptop would be no good for individuals less insignificant than me.
Bloody 16:9 screens GRRRR!
I blame everything, well almost everything, on the perverse idea that laptops should have screens designed to play movies.
My trusty old laptop is a ThinkPad R52 with 1400x1050, yes, 4:3, and guess what, it's great. It might be old, slow, and the battery last approx 20 minutes, *but* it's not the size of an aircraft carrier flight deck so is easy to carry from one plug point to the next! I don't need battery life, I need portability. I would by a new replacement, but I don't want to have to purchase a wide load screen just to get a similar vertical resolution to what I've already got. So I'm contemplating a motherboard hack to install a sata SSD instead.
Even on a desktop machine I'm not sure about 16:9. I'm sitting typing this on a 27" 2560x1440, and I seem to have far more slack space on each side then I do top and bottom.
What bugs the crap out of me
Back around 2003 (ish) I got a Dell UltraBook (wasn't called that at the time, but that was what it was). It had a 1920x1200 screen. This was better than a lot of standard monitors at the time (the standard desktop monitor at work was 1600x1200). Since I did a lot of coding on the laptop, having the vertical screen resolution so I could see lots of lines of code was crucial. Last year, I was looking for a new laptop, and i found nothing with a 1200 vertical screen resolution. Everything had gone 1080 (or less). At the same time, my home setup is a 2560x1600 screen and a 1600x1200 in portrait next to it. I find it unbelievable that in 8 years desktops have improved massively, but laptops have gone backwards. For this reason alone, I always thing that people who claim that desktops are dead are spouting rubbish.
@ Mikeyboosh
Giveaway - solid metal case, plus rose-tinted view of perfect laptop.
It's a Macbook Pro.
My laptop has a 17" widescreen display, stupidly-high resolution (I'd get 60 rows of a spreadsheet on a screen no problems at all, and that's in LibreOffice with what looks like huge 20-point rows), a built-in numpad, no crammed ports, whatever storage space I want for it (originally 500Gb but that was a while ago), wonderful display angles (hell, I've had four people sitting on a sofa watching it), stupidly loud (and clear) sound for a laptop, a decent trackpad (about the only thing I've had paid extra for would have been a trackpoint, but to be honest - the wrist-area is so damn huge I can use a mouse on it! Touchscreens are a gimmick that I wouldn't pay a lot for but would only use occasionally even if they were free), and decent battery life. Not only that, it plays every game I've thrown at it (admittedly I haven't tried the very-latest titles, but it laughs at anything you tend to buy on Steam), has a really solid build (aluminium casing), and all the ports I could ever want.
Just because you buy cheap laptops that don't fulfill your need, doesn't mean they don't exist in perfectly ordinary retail channels (I actually have two of this laptop - one bought via Novatech, one from Amazon). All the things you mention cost extra to have, so you have to pay extra and not expect some cheapy £300 thing from Currys to have them all.