NASA brainstorms with John Q Public for 2018 Mars mission
If the money's in the pot, that is
NASA is asking for ideas from the general public for probes and tools to send to Mars in 2018, as part of its longer term plan to have humans visit the Red Planet in decades to come.
"We're planning an agency-wide effort to look at Mars activities as we go forward, including the president's challenge to send humans into the Mars vicinity in the 2030s," said John Grunsfeld, five-time space shuttle astronaut and associate administrator for NASA's Science Mission Directorate, at a press conference on Friday.
NASA has issued a call for papers to decide about the mission objectives, with a deadline of May 10, and a meeting will be held in June to discuss proposals overseen by a newly created NASA's Mars Program Planning Group (MPPG). The group will also be releasing software and social media tools to take more general input from members of the public and final decision will come in August.
NASA's planning a mission to the Red Planet on 2018, although there's also a good window in 2020. It isn't specifying if it would be an orbiter or something to actually land on the surface. In cost terms any ideas need to be similar in price bracket to next year's planned Mars Atmosphere and Volatile Evolution Mission (MAVEN) satellite launch. That's assuming there's the money to do it in six years time.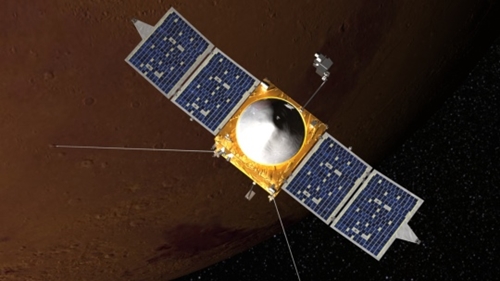 MAVEN will study the upper atmosphere of Mars in 2014
Any such plans are open to change based on the data coming back from the Mars Science Laboratory, and its rover Curiosity. Doug McCuistion, director of the Mars Exploration Program at NASA Headquarters said that in the next few weeks there would be an update on MSL's current progress, claiming that that the failings in its guidance systems were fixed and confirming the landing date of August 6.
"We'll talk to you about the incredible accuracy of our second trajectory correction maneuver that pointed us at our entry point above the Mars surface for the first time, as well as some significant shrinkage in our landing error rates that will make our landing location in Gale Crater become even more interesting," he said.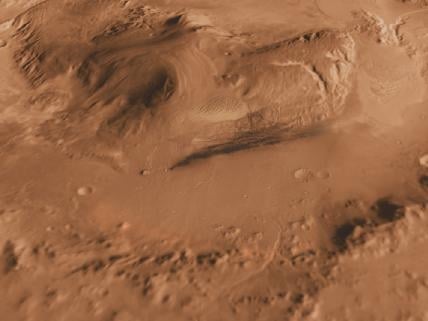 Ground zero in Gale Crater for the MSL and Curiosity
This exercise in openness from NASA has a lot to do with the last budget cuts, and the fallout from having to withdraw from the 2016 and 2018 ExoMars missions with the European Space Agency. NASA has to slim down its expectations in the light of funding shortages, and the previously planned mission to bring back samples from Mars was not an option in the short term, the agency said.
Nevertheless, the eventual goal of all these trips is to get humans onto the Martian soil. The MSL is carrying sensor packages designed to measure the effects of ground radiation and ionization to see what the effects on humans walking about would be, Grunsfeld explained, and analysis of its soil is looking for elements, organic or inorganic, which could be toxic to astronauts.
There are even sensors on the spacecraft's aeroshell that will feed back data on air density and turbulence that will be used for heavier landings later, Grunsfeld said, and the ISS would play a critical role in preparing astronauts for the expected six-month trip. With the exception of radiation exposure, the ISS provided exactly the right atmosphere for testing and the Russian space agency has already been conducting tests along these lines.
"Exploring worlds other than our own is inherently a shared endeavor, the people of Earth looking to other planets and beyond is not something that's the purview of just one nation," said NASA chief scientist Waleed Abdalati.
Sponsored: Minds Mastering Machines - Call for papers now open