iPad to reign unchallenged as KING of FONDLESLABS
Moses would have used Apple tablets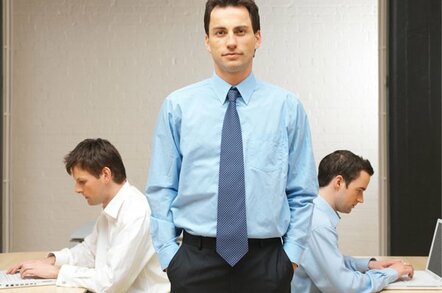 Global shipments of fondleslabs are predicted to nearly double to 119 million in 2012 but Apple's dominance is unlikely to be challenged, Gartner box counters claim.
This represents a whopping 98 per cent leap on the 60 million tabs sold worldwide last year, the analyst revealed.
But Google and its band of hardware partners do not pose a threat to Apple with sales of iOS-based slates estimated to come in at almost 73 million units compared to 37.9 million devices running Android.
Myriad PC players and smartphone vendors have tried to capture a slice of the action but "so far, we have seen very limited success outside of Apple with its iPad," said Carolina Milanesi, Gartner research veep.
"As vendors struggled to compete on price and differentiate enough on either the hardware or ecosystem, inventories were built and only 60 million units actually reached the hands of consumers across the world," she added.
The inventory situation - which HP and RIM among others were evidently wrestling with before hacking prices - had spilled into 2012 and was not helped by the latest addition to the iPad family, the analyst reckoned.
The limiting factor for Android-based devices is the "lack of applications" dedicated to tablets.
Microsoft's long awaited entry into the tablet market should help to shake things up slightly in the short term - Gartner forecasts Microsoft will exit 2012 with a 4.1 per cent market share.
Enterprise users are familiar with Microsoft's OS said Gartner - businesses are forecast to account for 35 per cent of tablet sales by 2015 - but due to the BYOD trend these will not be clearly defined as enterprise purchases.
"This [BYOD] poses a big threat to vendors that thought about focusing on the enterprise market who will now have to become appealing to consumers as well," Milanesei said.
"Tablets have been created for consumers first and then relied on an ecosystem of apps and services that make them more manageable in the enterprise," she added. ®
Sponsored: Minds Mastering Machines - Call for papers now open