Jazz Jackrabbit
Easter Bunny?
Jazz score
Each chapter of the game – of which there are six main ones and three bonus ones – features two to three planets, each with two levels, followed by a boss fight. The planets have specific themes some even involving water and swimming, with corresponding music, enemies, and even colour schemes.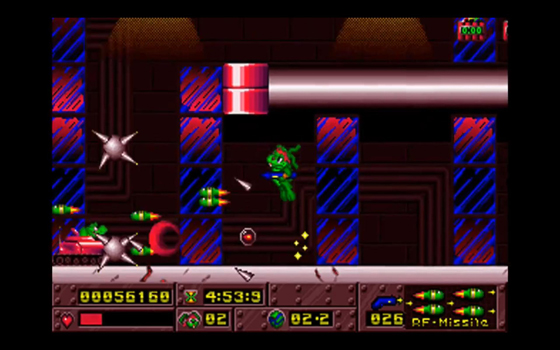 No Acme dynamite for this bunny
The levels consist of Jazz running, jumping and shooting his way past various enemies, grabbing carrots for points, collecting ammo and power-ups. Power-ups include "rapid fire" upgrades, invincibility, and the standard speed boots. Collecting a red gem gives me access to a 3D bonus level where I can get my paws on even more goodies.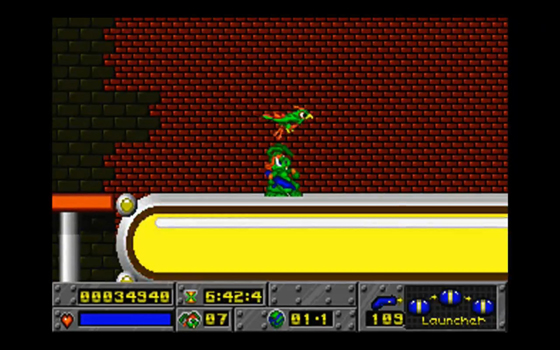 Airbourne assistance
The points help give the game epic re-playability, together with that crystal meth obsession of finding every item and killing every enemy in each level – I'm a pretty twitchy bunny. Oh, and don't forget to free a caged hip hop for some bird based back up!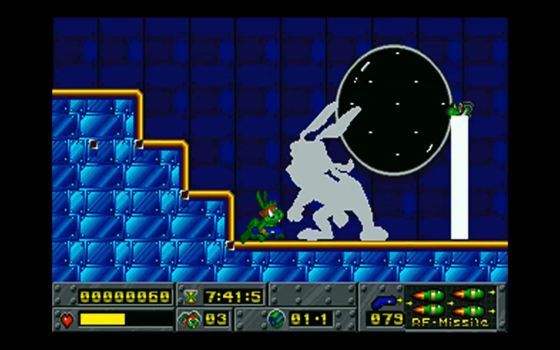 Boss battles are a little unsophisticated by today's standards, but there are difficulty levels
The game-play is enjoyable and fairly simple, my only quibble with it is that it's a little too simple when it comes to the boss fights, but I can choose from four different difficulty settings including turbo which pictures Jazz as a muscle-bound Rambo type.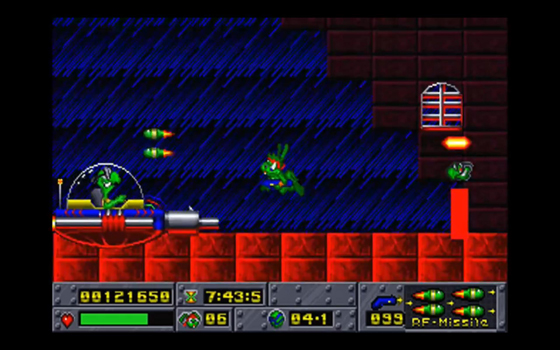 Hi-tech tortoise hell-bent on global domination – seems perfectly feasible
The graphics are eye bleedingly bright and colourful with a level of detail that still looks good nearly 20 years later. The game play animation is smooth and on re-inspection surprising unglitchy.
I can rely on Jazz Jackrabbit for hours of enjoyment over the Easter holidays and, seriously, how many games these days can boast slow-motion rabbits and 3D level design? Now where did the ferrets hid my Gravis PC gamepad? ®
Antique Code Show is published every two weeks on Wednesdays
Developer Epic Megagames, Arjan Brussee
Publisher Epic Megagames
Year of release 1994
Platforms DOS/Windows
More Retro Games

Rock'n'Roll Racing
Carmageddon
Leisure Suit Larry
System Shock
The Dizzy Series
Sponsored: Minds Mastering Machines - Call for papers now open