UK retailers start taking Nokia Lumia 900 orders
Windows of opportunity

Nokia's next Windows Phone, the Lumia 900, was made available for pre-orders today, with British punters able to pick one up free on contracts starting from £36 a month.
The Finnish firm's third Windows Phone 7 handset bulks out the battery from 1450mAh to 1830mAh and ups the screen size from 3.7in to 4.3in. The display sports the same 800 x 400 resolution as its sibling, the Lumia 800 .
It also shares the same 1.4GHz processor, 512MB of Ram and 16GB internal storage, but improves the camera to 8Mp, throws in a front-facing one for videocalling and tweaks the OS for Windows Phone Tango.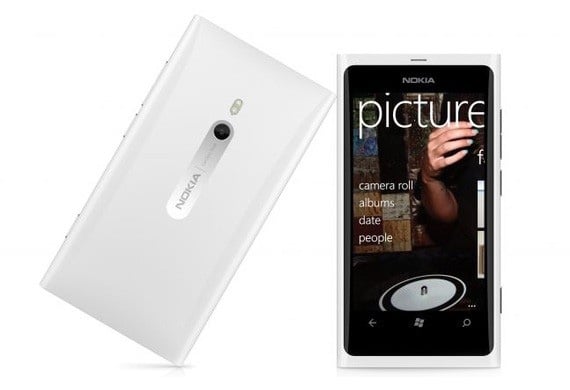 While the US received LTE versions of the handset, the model heading to Blighty has been equipped with 3G HSPA instead.
The phone has seen mixed reviews since hardware started exchanging hands with hacks, with some publications calling the 900 "a phone every person should consider owning" to others saying it's "too ordinary to be a flagship phone for Nokia".
If you're happy to make the plunge without reading Reg Hardware's impending assessment, head on over to Phones4U where you can pick up a Lumia 900 exclusively in white, with a free Nokia Play wireless speaker for all advance orders.
Contracts start at £36 per month on two year plans with various minutes and data packages depending on which operator you roll with.
Alternatively the Carphone Warehouse also offers the Lumia 900 on similar contracts, albeit in black versions only.
Clove has the black one on order, too, for which it'll charge you £460.80 for a Sim-free model. It's taking advance orders too. ®
COMMENTS
Ooh!
I've been tempted ever since I saw a scathing review on an Apple FanBoy site; my immediate thoughts were, if Apple Fans are worried it must be something special... The more I look into it the more I want one, and that's not just because it isn't an iPhone.
Re: Owneer of Lumia 800... Avoid like plague
Don't know what's wrong with your phone but
1. Tethering, works fine on my HTC Mozart and the Radars we have at work
2. Auto time, Again on my mozart, settings->date+time change set automatically to on.
3. email search, I can directly search the server on my gmail account and my exchange account, but for some reason not my hotmail account so I'm guessing it's a problem with the provider rather than the phone.
Re: Owneer of Lumia 800... Avoid like plague
oh and Tethering,
it is there, but your network has chosen not to give it to you, may wish to ask them why you don't have it as its nothing to do with MS
Seriously, why bother pre-ordering?
I predict that there will be plenty available on stock.
Those who do not learn from the past...
http://verydemotivational.memebase.com/2012/04/10/demotivational-posters-history-2/