WTF is... UltraViolet
Cloud Nine or Hurt Locker?
Converting libraries
UV won't only be relevant to new purchases. On 16 April, US retail giant Walmart will allow shoppers to bring in their DVDs and BDs and pay to have digital copies added to their UV accounts. An SD copy will set punters back $2 (£1.26), an HD copy $5 (£3.15), even if someone only owns the DVD. They get their discs back.
Walmart's scheme is the first of its kind, and requires you to sign up for the retailer's online video store, Vudu, though the digital copies you buy can be played on Warner's Flixster app, available on a number of platforms.
Other firms will follow Walmart in the States. Best Buy is a DECE member and is expected to announce a similar disc-to-digital scheme soon. And the smart money suggests fellow DECE member Tesco will offer such a service too, no doubt tied to its online video store, Blinkbox, which it bought in April 2011. It's not hard to imagine Walmart-owned Asda doing so too some way down the line.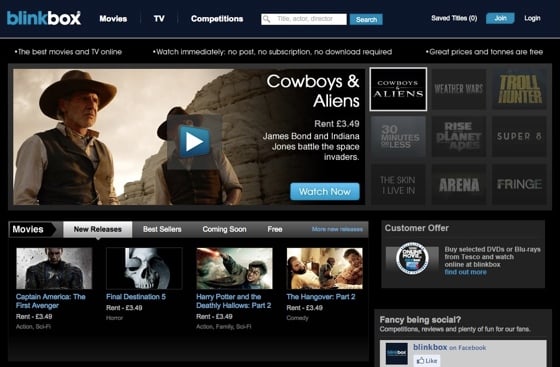 Will Tesco's BlinkBox offer disc-to-digital trade-ups?
In the US, Amazon has voiced its interest in UV. Its UK-based Lovefilm streaming service, like the rival Netflix, is a DECE member. Both are likely to support UV in due course, offering UV sales as an alternative to their streaming and rental services.
Warner Bros UK has said it will support UV on all future BD releases, and Sony is expected to do so when the CPP is launched this coming summer. Virgin Media may add UV playback to its TiVo set-top box. Tesco's Blinkbox has confirmed that it will support UV. So has Dixons, which launched its own online movie shop earlier this year.
Apple alone
UV's universality replicates the old-style retail world. It allows you to buy content wherever it's cheapest and play it on whatever (compatible) device/app combo you fancy. The exception is - surprise, surprise - iTunes.
Apple's DRM technology, FairPlay, isn't part of the UV spec. Apple won't make it available - or at least hasn't so far. Under Steve Jobs it would have been unimaginable for the company to support UV, which is the antithesis of his lock-the-customer-in philosophy. CEO Tim Cook seems less dogmatic than Jobs, but it's hard to see him willingly loosening the hold Apple has over folk who buy content from iTunes, especially when the company's iCloud service allows it to match the functionality UV offers, if not its universality.
Indeed, pipelined projects such as the rumoured 'iTV' Apple television and a TV subscription service, suggest the company is preparing for a two-horse race: iTunes vs UV; us and them.
For now, Apple has the edge: it has hundreds of millions of customers worldwide - there are just under a million UV accounts in play - it has a better known brand and it is already selling lots and lots of content. UV really won't come into its own until it is relaunched in the summer with CPP support and the true universality the common file format makes possible.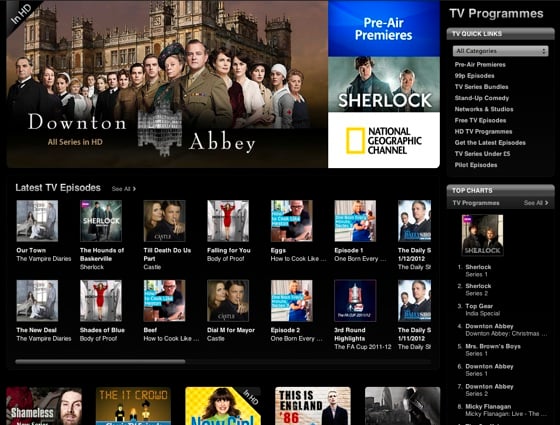 Apple's iTunes to support UV? Not likely
Apple alone then? Not entirely. Disney is developing its own UV-like service, called KeyChest. Like Apple - to which it was, in Jobs' day, connected through Pixar - Disney reckons its brand is strong enough that people will come to it, no matter what.
The real target
But there's room for Apple, Disney and UV. Indeed, while it's tempting to see UV as an industry-wide attempt to resist the rise of the Cupertino giant, it's actually about discouraging consumers from downloading pirate copies of films. Most folk do so because it's free, and that's going to be a hard sell, no matter how flexible UV is.
But for downloaders who object to previously imposed tight DRM limits and those who'd rather go legal if given a decent way to do so, UV is attractive. And since it renders the need to rip purchased discs largely unnecessary, it may have the effect of limiting the amount of content available on Torrents. Maybe.
As the UV website admits: "Whether these options are available, and the details of how they work, may vary by retailer and by title." Likewise, content licensing limitations means that the service, while available in multiple countries, doesn't necessarily mean you can stream a US movie to a UK user. The industry still wants some say in what you watch, when - and that may be too much control for movie fans. ®
Sponsored: Minds Mastering Machines - Call for papers now open