AOL sells Microsoft 800+ patents for over $1bn
Fading company's 'Kodak moment'
AOL has confirmed that it is selling Microsoft a bundle of over 800 pieces of its patent portfolio for $1.056bn, and will be licensing its remaining intellectual property to Redmond and others.
"The agreement with Microsoft represents the culmination of a robust auction process for our patent portfolio," said AOL CEO Tim Armstrong in a statement. "We continue to hold a valuable patent portfolio as highlighted by the license we entered into with Microsoft. The combined sale and licensing arrangement unlocks current dollar value for our shareholders and enables AOL to continue to aggressively execute on our strategy to create long-term shareholder value."
Armstrong said that the bulk of the money would be returned to shareholders, which will make board meetings less fractious, and which sent the AOL share price rocketing up by over 30 per cent on Monday's trading. Some shareholders have been questioning the wisdom of trying to build a business around web services and buying up media outlets, and the deal with Redmond may buy Armstrong more time as he reconfigures the company.
So what's in the patent bundle? According to an analysis by Envision IP, which has seen some of the intellectual property, AOL is sitting on some fairly major stuff from the beginning of the internet era. As you'd expect, AOL's largest patent pool covers communications technology, including a lot covering instant messaging and email technology.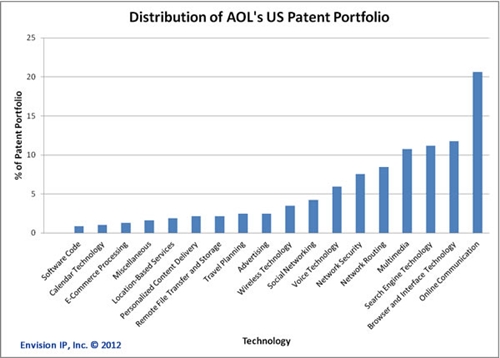 AOL has plenty of patents from the beginning of the internet age
But the company has its fingers in many pies. AOL has 81 patents for internet browsing and another 77 covering search technology – including semantic searching and metadata querying – that were issued before Google was even started, something Microsoft may be very keen to get their hands on for future legal campaigns.
"This is a valuable portfolio that we have been following for years and analyzing in detail for several months," said Brad Smith, Microsoft's general counsel. "AOL ran a competitive auction and by participating, Microsoft was able to achieve our two primary goals: obtaining a durable license to the full AOL portfolio and ownership of certain patents that complement our existing portfolio." ®
Sponsored: Minds Mastering Machines - Call for papers now open