United Nations gifts NORTH KOREA with tech worth $50k
A glimpse at Kim Jong-un's IT wish list...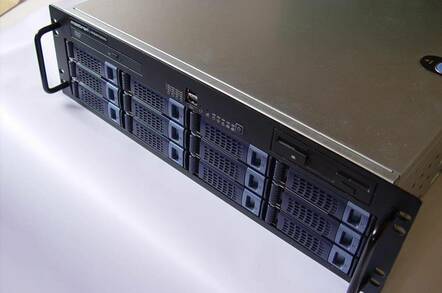 HPC blog The UN's World Intellectual Property Organization (WIPO) is looking to gift the Democratic People's Republic of Korea (the bad Korea) with a little over $50k worth of hardware and peripherals, plus some training, with the goal of modernising North Korea's patent and trademark applications.
Really? That's what's highest on North Korea's IT wish list these days? Yep, it is... and for good reason.
It becomes a bit clearer when you consider that this new system will greatly improve North Korea's access to an international database of more than 2 million patents filed under the international Patent Cooperation Treaty. The current database has 26 million bibliographic records and 13 million specification documents, which is sizeable.
I've never filed a patent (not even my idea for training snakes to pull cables through floors/walls), so I don't know the level of detail in patent applications. But it seems you'd have to disclose pretty much every aspect of any invention you want to protect with a patent.
If you were, say, an outlaw state that isn't looking to sell items outside your own borders and doesn't care all that much about the niceties of intellectual property, then those patent applications could be a treasure trove of info on how to build better devices – a way to quickly move up the tech evolutionary ladder.
The story mostly talks about how this deal might violate UN and US restrictions on technology transfers to roguish states. But there's another link that outlines what North Korea has now and what they're looking for. The first thing that jumps out at me is that North Korea's technology is, well, shitty.
They're currently running a collection of old Dell and HP personal computers (and kinda sorta servers) wired together with 100Mbs Ethernet. For the new gear, they want some modern 2-way servers coupled with a GbE networking. They're also going to upgrade their storage to a total 48TB in two arrays, backed up by tape. Topping off the request is a fast colour laser printer (40+ pages per minute) with auto-duplexing.
The software infrastructure is also interesting. While North Korea is currently an Oracle customer, that might be changing in the near future. They're talking about converting the data to standard XML format, then indexing it with open-source Lucene/SOLR, which would reduce or maybe eliminate the need for Oracle in at least this department.
It's unclear whether Oracle is planning a last-ditch sales effort to save this key piece of their North Korean installed base. My mind is reeling with images of Larry Ellison meeting with Kim Jong-un. What would that be like? Or, better yet, what if the old man, Kim Jong-il were still around? How would that meeting go? ®
Sponsored: Minds Mastering Machines - Call for papers now open