Publisher hails CS Lewis 'space trilogy' e-book debut
Forgets it had already released it over here
Fans of CS Lewis' other sequence of novels - the 'Perelandra' trilogy, not all that stuff with furniture and leonine Christ metaphors - will be pleased to hear they're now out in e-book form.
Almost 50 years after Lewis' death, in 1963, Out of the Silent Planet, Perelandra and That Hideous Strength can be purchased from reputable online booksellers.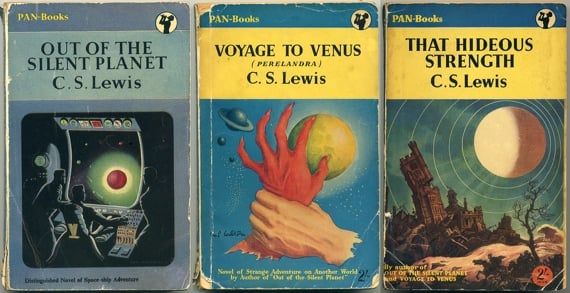 Source: Twisty Turny Lanes
The trilogy sees Dr. Elwin Ransom - a Cambridge boffin said to have been based on Lewis' Oxford colleague JRR Tolkien - whisked off to Mars - aka 'Malacandra' - by interplanetary pirates. There, he learns the true history of the Earth and fights to save the natives from the plunderers.
He does the same on Venus, known to its inhabitants as Perelandra, before fighting for Earth's salvation using romantic mysticism to overcome de-humanised science.
HarperCollins - prop. R Murdoch - claimed the release marks the trilogy's appearance "in e-book format for the first time in English". Not true - the publisher's UK wing put the e-books out in December 2010, a trip to Amazon.co.uk reveals.
The fact that HarperCollins publishes the books in the US and the UK just goes to show how bonkers media markets are when they prevent Brits buying e-books from the US, and Americans from buying e-books available here. ®
Bootnote
Commentards are currently discussing their favourite Sci-Fi books at El Reg Forums. Join in!
COMMENTS
Re: Misconceived idea of Lewis' work
> how does the style compare?
"Screwtape Letters" is aimed at fairly practical advice for a Christian. The trilogy is more speculative. The premise is that Mars and the Moon are older cultures than Earth, and Venus is a new creation. The Moon became entirely corrupted and dehumanised. If I remember correctly there had been war in which Mars was badly damaged. The lunar culture is bent on corrupting Earth (a major theme in That Hideous Strength, the third book). In the second, the protagonist is taken to Venus, which is at the stage of the garden of Eden, where the equivalents of Adam and Eve are confronting temptation - the question he is addressing is whether the fall of man was inevitable.
Anyone expecting hard sci-fi will be disappointed - that's not the point of the books, any more than it is of something like "The Dispossessed". Rather he is using a larger stage to examine some questions which can't be addressed purely on Earth. I liked the books a lot, but they assume the Christian religious view in the same way as other books assume advanced technology. I'm not sure how much a non-Christian would get out of them, but as I say, I liked them.
Re: Misconceived idea of Lewis' work
It's sci-fi as written by a professor of ancient literature, i.e. quite bookish. The plot of 'Out of the silent planet' is not unlike 'Avatar', i.e. greedy humans go and strip-mine alien planet for its wealth) and similarly has a great deal on how the alien society works.
However the third book, 'That Hideous Strength' is a fantastic read with broad English caricatures - very funny with its observations of human nature and especially that of ladder-climbers in large organisations.
All three of these are definitely written from a Christian worldview.
Of Lewis' novels for adults, 'That Hideous Strength' is probably my favourite, but 'Til we have faces' while quite a difficult read draws one into an other-world (based more on Greek mythology than anything else) which has the greatest emotional impact of any of his books.
Re: @JDX
Comments on this forum make me want to read these 3 (on paper). I read That Hideous Strength at the age of 12, which was much too young and an odd experience. There is a right age for some books.
Regarding Christian Music, some of it is not bad - Handel, Beethoven etc.
Re: Misconceived idea of Lewis' work
>>These are no more sci-fi than Christian metal is metal.
Can you explain that phrase? What's "Christian metal"?
Anyway I'd never heard CSL had written any SciFi, are they any good? I like the Narnia books - or liked them as a child - and his ScrewTape stuff (I am a Christian though) so how does the style compare?
Misconceived idea of Lewis' work
All of CS Lewis' work is Christian allegory. These are no more sci-fi than Christian metal is metal.