Sony to bring Google TV to Europe
£167 set-top setting for ad giant's content store
Google TV will be coming to Europe this September, two years after the little loved web telly service was launched in the States.
Sony is bringing the online advertising giant's offering over here, initially through a €200 (£167) set-top box and later in a Blu-ray Disc player, French daily Les Echos reports. Both gadgets will run Android, the paper reckons.
According to Sony's Stephane Labrousse, the first of these will debut in France in September. We say it'll make it across Europe at the same time.
The timing suggests an introduction at Berlin's IFA consumer electronics show.
When Google TV launched in the US in October 2010, Sony supported the service through an integrated TV available in 24in, 32in, 40in and 46in models priced from $600 to $1400.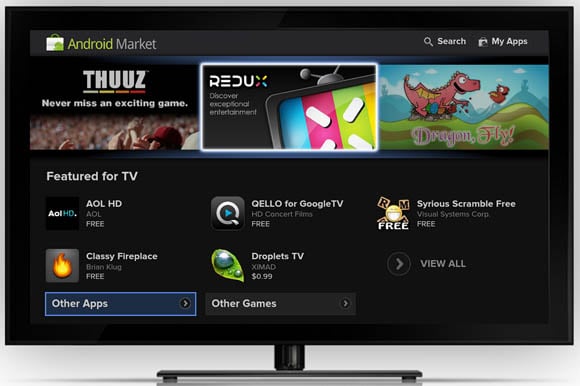 At the same time, mouse maker Logitech introduced a $300 set-top box. The company's CEO, Guerrino De Luca, would say, a year later, that the Revue box was "a mistake of implementation of a gigantic nature" before dumping Google's "beta product" service.
Can Sony succeed where Logitech failed? It's box is cheaper, slightly, and Google now has the Google Play store to tap into.
But according to market watchers like DisplaySearch's Paul Gray, media streamer shipments in Europe will struggle to exceed 3m units a year over the next three years or so. Blu-ray player sales will have gone past 10m units by 2013, while games will consoles average 27m units through to 2015. Smart TV shipments will grow from over 30m units this year to 50m in 2015.
In short, punters are not looking for services like Google TV in set-top boxes but in TVs and, to a much lesser extent, in BD players. Sony's €300 (£250) Google TV BD box may do better than the cheaper add-on.
Assuming, of course, Apple doesn't go town in that timeframe with its so-called 'iTV'. ®
COMMENTS
Re: I don't get it
Second that. Why would I want an extra box under my TV to add a function my console has pretty much already covered (and then some).
I don't get it
The quoted price is about the same as a PS3 or an XBOX360 - what makes this better than either of those? The consoles can do lots of IPTV stuff and great games. As far as I can tell the Google TV does IPTV and a few basic games.
Wow - can't wait
Android phone apps scaled up to 40". Contextual ads on top of TV. Remote control with more buttons than the organ at Radio City.
Sign me up - now!
Why a new set top box with Blu-Ray Player?
Why not just wrap it all up in PS3, sales for Sony, Google claim sales as well?
Price
Price I think is the key problem here (as seems to be the norm for Google TV).
If these boxes were £50 they'd be worth a look. As it is a RaspberryPI with XBMC would be a better media centre I think, and for the less technical a WDTV box or existing console/connected TV/connected blu-ray is fine.
I'm hoping for Google's sake that it isn't just Sony that are releasing this new generation of GoogleTV boxes.